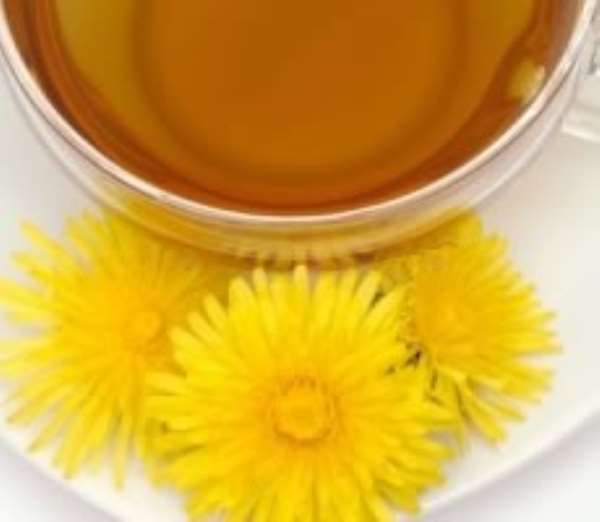 The other day, I read in two separate places – my nutrition course textbook and my newest issue of Natural Health magazine – that roasted dandelion root makes a good substitute for coffee and delivers numerous health benefits. Since I've been sucking down the java lately like it's water, I decided an alternative beverage was in order.
I've tried to limit my intake of caffeine and other stimulants for a long time. If you're healthy and eat a nourishing diet, you shouldn't have to rely on stimulants to keep you functioning. When I reach for the coffee, it's usually for a treat rather than for a pick-me-up. But even a little bit can make me jittery, and then I'm setting myself up for headaches on the days I don't drink any. Not a good pattern to be locked into.
So I was pleased when I found Traditional Medicinals Organic Roasted Dandelion Root Tea in the "health market" section of my local Hy-Vee (it was in the tea aisle). The box says it promotes healthy liver function by stimulating bile production. The main functions of bile are to break down fats and carry away waste.
According to Dr. Andrew Weil, all parts of the dandelion except the seeds can be used in food and medicine., and it provides more nutrients than many commonly consumed greens. Dandelions contain more vitamin A than carrots, as well as high quantities of vitamin C, B6, folic acid, calcium, iron, and manganese.
So I passed up my usual morning cup of coffee today and decided to give the dandelion root a chance. I was pleasantly surprised by the flavor: it has a nice roasted, slightly nutty taste. I imagine if you made a cup with two tea bags, it would even be dark enough to pass for coffee. It is caffeine free, so don't expect the same boost you get from coffee, but try eating an apple for breakfast and you may find you don't miss the caffeine.
I may never completely give up my afternoon iced mocha, but I can see the dandelion root tea becoming a regular part of my morning routine.