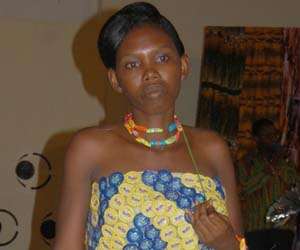 Students of the Fashion Department of Ho Polytechnic last Saturday held a fashion show to display a variety of well stitched and designed outfits.
This forms part of their requirements for their Higher National Diploma Certificate in Fashion Designing.
The 28 student designers showcased a variety of outfits ranging from casual, beach and dinner wears. The rest were children, maternity and theatre or stage costumes. The costumes were mostly made of African prints with just a few made from foreign prints and leather.
Interestingly, some costumes were made from newspapers, cardboards, maize husks, jute bags, umbrellas, crown cocks, straws, scarves, magazines, sacks and other unassuming materials.
The fashion show was also an opportunity for students who have the desire for modelling to display their modelling and cat walking skills. These models took charge of the runway and did their own thing to give definition to the dresses made by the student designers.
Some of the outfits showcased in the stage costume category included concepts like 'the slave story' by Sarah Aidoo.
Another concept was 'Gladiators', designed by Kleopa Patricia. According to her, the design was to depict the strength of the African and also give the theatre and movie industry in Ghana costume options when making epic stories.
Sabinnah Essandor also used magazines to make stage costumes based on the concept 'Vacuum and Vogue'. She said the concept was meant to ignite African ingenuity and demonstrate the can- do spirit in young African designers who have an eye for the movie industry.
For the casual wear category, Evelyn Amoo came up with the concept 'Zipie Strip'. In this concept, zippers were used at various portions of the dresses to make it flexible to transform at any time to suit whatever occasion. Another interesting concept in this category was 'the Baggage Body'. Here the designer, Anita Nuworkpor, made her dresses from hand bag materials.
'Natures Night' was another relishing concept designed by Antoinette Amevedzi for the evening wear category. The concept, she told BEATWAVES , was based on the beauty of the Peacock, particularly its feathers, and other colourful species that make the night worth living. 'First cut is the deepest' was a concept based on the use of expertly cut designs to display splendour when dressed at night. It was designed by Christiana Oklu.
From Fred Duodu, Ho