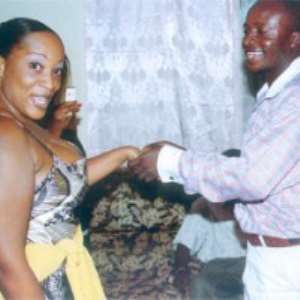 Sylvia with Prophet Eric Amponsah aka computerman
A man of God, Prophet Eric Amponsah, leader of Hope Generation Ministry, has started fighting his wife again and reportedly threatened to use satanic powers to mess up her life.
Prophet Amponsah aka Computer-Man, and his wife Silvia, are at each other's throat over which of them has the right to take custody of their three-year-old son.
The struggle between the pastor and his wife has taken a rather strange twist after she recently accused him of beating her up and further plotting to take her life.
Silvia has told NEWS-ONE that Computer-Man tormented her life anytime she requested money to take care of their son. She showed the paper several text messages the Pastor had sent to her phone, in which he repeated the threats.
'As for you, you call me Satan and I will make sure that I do the satanic things in your life till the end of my life.
For your information, anyone who challenges me goes to jail so be prepared….How can I sell my blood to a woman who expresses herself in newspapers without thinking about the future of the only son you have.
You have now met the Satan himself. Hahaa you will run away from this country if you insist on not giving me my son.
Again, whosoever challenges me goes to jail. Watch out from Monday and keep this message for remembrance. Do you hear', were some of the text messages Silvia showed NEWS-ONE and they were sent to her using Computer-Man's phone number.
Though Prophet Amponsah would not comment on the matter, his aides explained that Silvia was the one who asked for a divorce and demanded an amount of GH¢2700 as compensation.
Computer-Man is said to have paid GH¢2500, with GH¢200 more to pay. The money was allegedly given to a broadcast journalist and marriage counselor who works at Peace FM and would be given to Silvia when the full amount is complete.
The pastor's aide mentioned that apart from paying for his son's school fees, Computer-Man sent GH¢100 on a monthly basis for the boy's upkeep but Silvia kept demanding more and used that platform to send insulting text messages to the pastor.
The aide said the 'satanic' text message was a reply from Computer-Man to Silvia after she had sent him a message accusing him of behaving life Satan.
Other text messages Computer-Man reportedly sent to Silvia read:
'You can find time to come to my church one day and you will be shocked the people have become more than before. God loves me upon all your publications.
'I hope you saw what later happened to Julie. She was fooling like this and later on ended up at the Police Headquarters. Whosoever challenges me always goes to cells. So get ready for that.
'Can you face the spiritual man? You are small spiritually so don't try me else?
'If you know what is going to happen to you, you would have brought me my son. Watch out.'
It was this same Prophet Amponsah who recently complained that his second wife, Juliet, had been fingered by another Man of God, Prophet Nana Kofi Yirenkyi aka Jesus One Touch, leader of Jesus Blood Prophetic Ministry.
According to Silvia, the Man of God impregnated her before they got married and started acting strangely towards her the moment she became pregnant.
'If the pregnancy were not visible, I would have aborted it because the man was acting in a very strange way…now he has informed my parents that he would divorce me but keeps shifting the divorce date from one month to another…that is not as annoying as he failing to look after the boy and rather insulting me and my family all over.
'Even when I gave birth, he said there was no money for the engagement and naming ceremony. All he brought was the boy's name and a few drinks. My family sponsored the rest just so we would not be embarrassed,' Sylvia noted.
Source: NewsOne