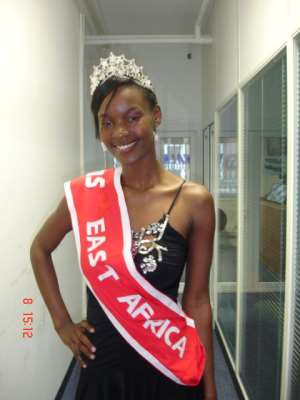 Most people living in the UK have never met the queen let alone come close to Buckingham Palace, so it's no wonder Uganda born African beauty queen-Maureen Nyakaira (Miss East Africa UK 2007) had a rather mixed reaction when she received an invite from Her Majesty the Queen of England to wine and dine at the Royal Palace.
Just two months after being acclaimed the winner of the prestigious title Miss Nyakaira has had numerous offers including appearing on BBC reality TV programme Celebrity Scissorhand featuring UK pop singer and mum-to-be Javine; teen rocker Lil' Chris; Hollyoaks actress Carly Stenson (Steph in Hollyoaks), It girl Tamara Beckwith; British actor and star of Willow Warwick Davis; 3 Non-Blondes' comedian Ninia Benjamin; actor and Neighbours star Ben Nicholas (Stingray in Neighbours); and BBC Radio One Breakfast Show's Aled Haydn Jones.
However, Christmas came early for the Ugandan beauty when she became the only beauty queen in the UK to receive an invite to join the exclusive reception/dinner on 12th November at Buckingham Palace organised by the Queen in preparation for her trip to Uganda in November to the Commonwealth Heads of Governments Meeting (CHOGM).
In her usual humble tone Miss East Africa UK revealed, "It was a breathtaking experience. I could not believe it; I still can't believe that I have actually shaken hands and talked with Her Royal Highness. I feel very honoured. The members and employees of the Royal household treated me with so much honour, almost like one of them. My conversation with the Queen flowed and she seemed to take great interest in me while taking a close look at my crown and sash". Miss Nyakaira added, "This is part of the conversation I had with Her Royal Highness: "Good Evening your majesty?" Good evening, Oh! You are Miss East Africa UK, where are you from? "I am from Uganda and I am representing the underprivileged children in East Africa". Okay, beautiful. The Biomedical student admits she was even more struck when she met Prince Michael of Kent with whom she shared a long conversation mainly on her charitable duties. He requested Maureen to join in and work with him in his charities. The intelligent beauty queen is slowly rising to fame and is getting recognised in the UK mainstream media but she insists she's not in to the fame game. Her main focus is to serve and campaign for underprivileged children of East Africa.
The pageant which was founded by Kenyan born Pauline Long sensitizes on issues affecting under privileged children of East Africa. These are children affected by scourge of POVERTY, HIV/AIDS and GENOCIDE. Miss East Africa UK beauty pageant works with various East African children's charities including Rafiki care Home of Kenya, Pearl children of Uganda and Forever Angels baby home of Tanzania amongst others. Last year, the past queen, Brenda Akot visited Rafiki children's home and Nyumbani children's home of Kenya whilst this year Maureen Nyakaira will begin her tour of East African children's charities on 22nd of December. Her tour will commence with her visit to Forever Angels baby home in Tanzania. Maureen will spend Christmas with the children who are all orphans of HIV/AIDS and are aged between 3 months and 3 years. She will however be delivering very unique Christmas presents to them. Instead of the usual toys she will be giving them nappies, wipes and baby food.
When asked why this is so, Pauline Long the founder of Miss East Africa UK said, "Normally during Christmas one tends to ask for or receive luxurious presents. Nappies, wipes and baby food are not exactly what a child would normally unwrap for Christmas but for these children this is a luxury and it's a gift that they deserve to have." After spending Christmas with the orphans in Tanzania, Miss East Africa will then proceed to Kenya on 29th December and will be spending the New Year with children in Nyumbani children's home and Rafiki children.
As part of her East African tour, Miss East Africa UK has also teamed up with UGPULSE.COM to hold the biggest charity concert in Kampala, Uganda on 12th January 2008 called Nyaka Eire concert with performances from some of East African well known artists like Chameleone, Mariam Ndagire, PiliPili, Ngoni and many more. The concert also includes major international artists such as Canadian singer/humanitarian Kay Morris. Nyaka Eire concert is in aid of Nyaka School of orphans and Pearl care children of Uganda.

While still dwelling on her meeting with the queen, Miss East Africa UK revealed she has a long list of people she would like to meet and share with her mission for the children. She concluded, "So far, meeting the queen is the best experience after the night I was crowned. Being Miss East Africa UK has added so much significance to my life. I treasure the crown and I will continue to wear it proudly as I represent East Africa. It has created a bond of love and compassion in me for the underprivileged orphans in Africa which has given me drive and passion to fight against poverty and bring joy to their lives."
For more information on Miss East Africa UK 2007- Maureen Nyakaira and the charities she campaigns for, please visit www.misseastafrica.co.uk/maureen
Miss East Africa UK is available for interviews. Please contact;
Pauline Long at - [email protected]
Tel: +44(0)7704193590