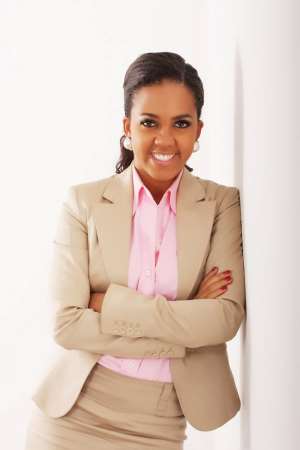 "Perseverance and hard work can help you achieve your greatest goals. This belief has guided me through my years at high school and university and continues to develop me as an individual. It has proven to yield tremendous results and is one that will stay with me for the duration of my life."
Driven, hardworking and friendly. These words aptly describe Christal Jeanne. Christal is currently the presenter of ebusiness Journal on e.tv Ghana and an Events Management Executive at Global Media Alliance. Christal had her elementary education in Accra at the Lincoln Community School and went to the Carleton University in Ottawa, Canada where she graduated with a Bachelor's Degree in Economics.
Christal is an all-rounder with a strong penchant for detail and quality. Busily employed as an Events Management Executive and a newscaster, Christal still finds time to manage a personal website (www.inencareers.com) as well as assist in the management of her family business.
"Pursuing further education in Canada formed a monumental part of my personal growth. I assumed attending university in a foreign country would be an easy transition especially due to my affable nature. However, the culture shock I experienced upon arriving in Canada was bewildering. I remember feeling incredibly homesick. It was one thing to visit other countries during holidays, but a completely different experience having to live in a foreign country for 5 years especially after living in Ghana my entire life" Christal reveals.
Christal believes challenges are just stepping stones to greater success. One of the major challenges she faced was the decision to move back to Ghana immediately after graduation. Like most things in life, "it was scary not knowing if I was making the right decision to return home at such an early stage. However, it has turned out to be one of the best decisions I could have made".
For Christal, Event management has always been her passion even at a very tender age. "It provides me with the opportunity to meet people from different walks of life. Meeting new people broadens one's horizons and thereby diversifying one's thought process".
Serving as the anchor for ebusiness journal was "something I happened to stumble upon. It was nerve-wracking at the beginning. Ignoring the camera and focusing on the task at hand is a lot more difficult than one may perceive it to be. However, practice has made me feel more comfortable with the camera, thereby allowing me to do my job to the best of my ability".
"I would have never guessed in a million years that I would be a presenter on TV. In the past I have always been commended for my natural flare at presenting, but I never thought I would end up on television. Presenting on live TV is nerve wracking at the beginning, but you get used to it over time and then you start to love it because you really get to relax and be you. Tele presenting is definitely a career that fell into my lap. I've grabbed onto it because I love presenting and hope to start several shows on TV within the next couple of years" Christal says.
The most satisfying moment on air for me is when everything goes well! My stories are action packed and my team and I deliver flawlessly. The most embarrassing day was the day when I couldn't stop laughing on air. My cameraman was picking up something from the floor and bumped his head on the camera that was focused on me, I just couldn't stop laughing! I hope a day like that never repeats itself while I'm on air. Clearly, such little blunders really crack me up!
Christal believes Ghana's media environment is growing, becoming more and more vibrant each passing day and as such, much more is expected from practitioners. "A lot more is needed from practitioners to meet world standards when it comes to professionalism and quality of service" she says.
Experiences shape people's lives and Christal's is no exception. "For me, participating in the World Economic Forum in Tanzania allowed me to visit a country I had never visited before and enabled me to interact with so many prominent leaders across Africa and the world.
Most people tend to create excuses for how difficult things are in their lives. However, it has always been my belief that your success or failure is a direct indication of the amount of effort you placed into seeking what you desire.
A lot of people watch me the first time and think that I am from South Africa or anywhere else but Ghana. I am a proud born and bred Ghanaian! Biologically I am half Ghanaian, half Swiss/French but having been raised in Ghana all my life, I can only connect with my Ghanaian side. I speak Twi and Larteh fluently and can't live anywhere else but in Ghana.
I am not married. My prince charming though, would have to be a Ghanaian ready to make me his queen.