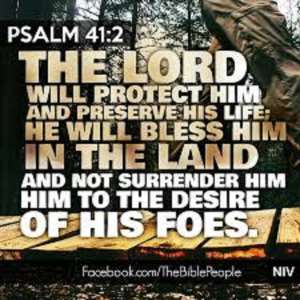 I. Daughter of Zion, may grace multiply for you. The word of God to you this day is to have regard for the weak, and the Lord will bless you. For the LORD has promised to deliver in times of trouble if you have regard for the weak. The LORD protects and preserves those who have a heart for the poor; such a person is counted among the blessed in the land. The Lord says your benevolence towards the poor and weak will ensure that you will not be handed over to the desires of your foes. The weak knocking at your door today may be your point for your personal breakthrough. The LORD will sustain you when you are sick and restore you from the bed of illness. Whoever is kind to the poor lends to the LORD, and he will reward them for what they have done.
II. Beloved, we have power over sickness because, by His stripes, we receive our healing. Activate that power through faith and speak it, for by mentioning the name of Jesus, every knee shall bow, in heaven, on earth, and under the earth. The world's order is that we bow to higher authority. We stand up when men and women of power and influence enter a place, but beloved, we have power, authority, and influence more than any worldly powers, so let us activate and use the power of God in us.
III. My beloved sister and my dear brother, you have God's power; what can man do unto you? When we speak the language of JEHOVAH, He activates the power planted in that word, and every knee will bow. The spirit of fear is alien to the believer. The spirit of fear is an act of deception to distract us, and it's a weapon of the devil. So whose word shall we believe: God, who has given us the Spirit of Power, of Love, and of Sound Mind, or the devil's spirit of fear and manipulation?
IV. Beloved, through the Lord Jesus Christ, you have the POWER to liberate the lost, you have the POWER to come out of that situation, you have the POWER to break down demonic alters, and you have POWER over the forces of darkness. Beloved, we have power, more powerful than any earthly government or institution. Let us walk through that POWER, this is DIVINE MANNA offered through the Authority and Power of Christ Jesus and served to you through God's Vessel Francis Ameyibor, the word of God is sharper than any two-edged sword; use it.
V. 2023 MY DIVINE YEAR TO PURSUE, CAPTURE, AND TAKE POSSESSION - It is better to heed the rebuke of a wise person than to listen to the song of fools.
PRAYER: Gracious Lord deliver us from any plot of the sons of Jacob. Let their schemes come to nothing. Disarm them for our sake and empower us to move on courageously through Christ Jesus' name Amen
Ref: Psalm 41:1-3
Proverbs 19:17
II Timothy 1:7
Isaiah 53:5
Philippians 2:10
WHATSAPP CONTACT: +233277438688
GOD'S VESSEL GLOBAL FOUNDATION