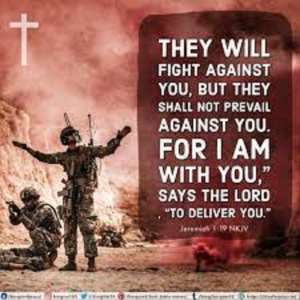 I. BELOVED, the LORD is about to heal you physically, emotionally, spiritually, economically, and in any other way that you need healing. That business will receive healing, and that relationship will be healed. The Lord will heal and restore. This is a prophetic word to you: "I am the LORD, and I will bring you out from under the burdens, and I will deliver you from their bondage. I will also redeem you with an outstretched arm and with great judgment, and you shall know that I am the Lord your God, who brought you out from under the burdens. Let us keep standing firm and not be subject again to the yoke of slavery. Let us not succumb to the yoke and enslavement. Let us claim our freedom, and let us take our possessions. That 'LAND' shall be fertile again, and you shall be productive again, irrespective of what you see around you. The anointing will show the difference. for the will of God has been established.
II. FAITHFUL BRETHREN remember that the Lord continues to guard the feet of His saints. At this eleventh hour, your feet would be protected, your interest would be secured in the Lord, and the way forward would be determined from above. In this eleventh month, I assure you that very soon the wicked shall be silent and put in darkness for your sake. For by the strength of the Lord, no man shall prevail against you. In this eleventh hour, God will give you strength and exalt your horn as an anointed servant. EBENEZER! EBENEZER! EBENEZER! This is how far the Lord has brought you. Therefore, sound the trumpet of victory; sign glorious songs unto our Lord. Raise your head and look at the mountain. Beloved, hitherto hath the Lord has helped us.
III. DAUGHTER OF ZION, for how long will you continue to run away from the mission set before you? How long will you continue to resist God? Now the word of the Lord came unto Jonah... Arise, go to Nineveh, that great city, and cry against it, for their wickedness is coming up before me. How long will you continue to resist that word? You are to proclaim that word; for how long will you continue to disobey? How long will you continue to doubt the word of God? TODAY GOD IS COMMISSIONING YOU ONCE AGAIN. ARISE AND GO. ARISE and move. ARISE and cry on to God. ARISE and proclaim the word. ARISE and speak out; you can no longer remain silent. ARISE! SPEAK THE TRUTH, AND YOU SHALL BE SET FREE.
IV. MY BELOVED SISTERS AND BROTHERS IN THE LORD: It is the Lord who will go before you this eleventh hour to remove the reproach, and He will be with you. JEHOVAH will not fail you or forsake you; therefore, do not fear or be dismayed. Be assured that when you pass through the waters, the LORD will be with you, and when you pass through the rivers, it will not sweep over you. Even if you walk through the fire of life, the flames will not set you ablaze, as the reproach has been rolled away. You shall sail through the difficulties of the eleventh hour and crossover. This is a DIVINE WORD OF POWER AND WISDOM revealed through Christ Jesus and served to the brethren through God's Vessel Francis Ameyibor, Yes! I pray that you may enjoy good health and that all may go well with you, even as your soul is getting along well.
V. 2023 MY DIVINE YEAR TO PURSUE, CAPTURE, AND TAKE POSSESSION - fear not, the power of God will manifest once again and will see us through this moment also; fear not only believe.
PRAYER: LORD grant us your divine boldness as we step out today to proclaim your word to nations. Lord, as we speak your word, set the captives free, restore hope in all hopeless situations, and grant the sick healing. LORD, let there be a manifestation of your word through Christ Jesus' name I pray, AMEN!
REF: Jonah 1:1-12
Isaiah 43:2
Exodus 6:6
Jeremiah 1:19
I Samuel 2:9
WHATSAPP CONTACT: +233277438688
GOD'S VESSEL GLOBAL FOUNDATION