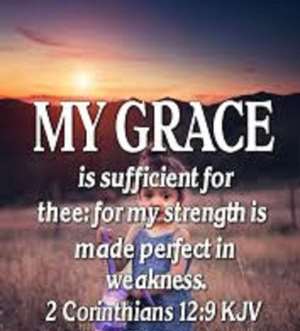 I. Daughter of Zion, in the dark hour, you may be afraid. Yes! You are even doubting the ability of God to deliver you. When things have turned around against you and it even seems the earth beneath you is giving way, that is when you have to still cry out to God. Never give up in life. Never stop calling in the name of the Lord. Never look back. It shall be well with you throughout that journey; you will not encounter any accident or incident, for God is in control. If God says it will be well with you, no one can change it. It will be well with your family. Yes, it will be well with your marriage and your business. Yes! You shall enter into a fruitful relationship, and it shall be well with you. You are not late. Today, God, through His word, is assuring you. My grace is sufficient for thee.
II. Beloved in the Lord, through that grace, your strength will be made perfect in your weakness. In our hour of weakness, we need the strength of God. In the land of doubts, we need strength to stand by the promises of the Lord. The ninth hour comes with deep darkness, but we need to hold on in faith, for the light of God will surely shine in our lives again. In that dark, lonely, and dreadful hour, most gladly do the contrary by rather glorifying God in your infirmities, that the power of Christ may rest upon me. And at midnight, Paul and Silas prayed and sang praises unto God, and the prisoners heard them. Paul and Silas encountered the ninth-hour darkness in prison. They did not lament, but they prayed and sang praises to God. Stop lamenting, begin reading the word of God again, start a new prayer session, and sing praises to God for a breakthrough.
III. BRETHREN IN JESUS CHRIST, fear thou not; for I am with thee. God is reassuring you that, irrespective of what you see or hear, JEHOVAH is still with you. Fear not, my dear sister, for God has not forsaken you. Be not dismayed, do not be intimidated, and don't let the temporal setback discourage you, for God is with you. I am your God; you are not alone; therefore, do not be afraid of physical loneliness. I am with you, so do not believe any other report. This is God's assurance unto you: I will strengthen thee. Yea, I will help thee. Yea, I will uphold thee with the right hand of my righteousness.
IV. Son of man And about the ninth hour, Jesus cried with a loud voice, saying, Eli, Eli, Lama Sabachthani? That is to say, My God, my God, why hast thou forsaken me? Are you alone in the ninth hour? Do you feel that others have forsaken you this ninth hour? Sometimes, in the ninth hour and in the ninth month, you may feel that you have been forsaken. In your difficult moment, you may feel and think you have been deserted by friends and loved ones. It is okay to cry out in the ninth hour for strength to continue the journey. Cry for the fulfillment of the Lord's purpose this ninth hour. Call on the Lord, and He will answer you in this ninth hour of your life. In the ninth hour, reaffirm and proclaim the word of God: Don't worry, for it shall be well with you. Any productive venture you set your heart to undertake, God says it shall be well. This is a DIVINE WORD OF ENCOURAGEMENT sent forth through the Authority and Power of Christ Jesus and served to the Brethren through God's Vessel Francis Ameyibor, Yes! God is my greatest source of strength. He is my defender, my salvation, and is good and faithful in every way.
V. 2023 MY DIVINE YEAR TO PURSUE, CAPTURE, AND TAKE POSSESSION – And Suddenly there was a great earthquake, so that the foundations of the prison were shaken, and immediately all the doors were opened, and every one's bands were loosed.
PRAYER: I believe that God does not make any mistakes, if He says all things shall work together for my good, so shall it be this year and beyond. Hark my soul for it is the Lord who says all things shall work together for my good through Christ Jesus' name I pray Amen
REF: Matthew 27:46
II Corinthians 12:9
Acts 16:25&26
Romans 8:28
WHATSAPP CONTACT: +233277438688
GOD'S VESSEL GLOBAL FOUNDATION