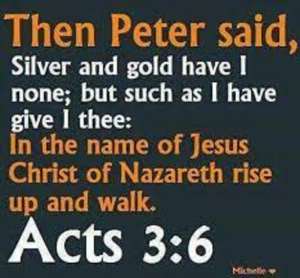 I. Daughter of Zion, that man is waiting for you at the beautiful gate. Brother, that sister is waiting for you at the ninth hour and at that prayer location. Your healer is walking towards you at the entrance of the temple. You must be in a strategic location to experience God's miracle. At the location, don't look for tips; look for the main. You deserve that. The breakthrough will surely come. The miraculous touch to complete the task. Therefore, let us enter the temple of prayer at the appointed hour. I declare unto you that all things are currently working together for your good. Irrespective of what you see, feel, and hear, JEHOVAH says they are all part of the broader things working together for your good. God is shaping all things to move and work together towards the accomplishment of that mandate. You will deliver safely.
II. My beloved sisters and brothers, the lame, was expecting money from Peter and John. What are you expecting this month from God? What are your expectations this week? And Peter, fastening his eyes upon him with John, said, Look on us. And he gave heed unto them, expecting to receive something from them. Then Peter said, Silver and gold, have I none? The man was expecting silver or gold from Peter and John, but unfortunately, Peter said they had none. If you don't have what I am looking for, why do you want me to look at you still? The lame did not need silver and gold at the time; he put his wants ahead of his needs. He actually needed healing. Today, this week, and this month I declared unto you silver and gold; have I none, but such as I have, give I unto you: In the name of Jesus Christ of Nazareth, rise up and walk. In the name of God, the Father, God the Son, and God the Holy Spirit, receive your miracle and breakthrough.
III. Son of man, this is the ninth hour, the ninth month of intense prayer for delivery. Now Peter and John went up together to the temple at the hour of prayer, the ninth hour. Where is your temple? In the ninth hour, you must enter the temple to pray. You have toiled all night. You have laboured all the way from January to September to enter the throne room of prayer for delivery. It was the custom of Peter and John to go to the temple during the hour of prayer. It must be your tradition to intensify prayers for change. In the ninth month, there must be a change. The cloud must make way for the rain to fall. We must see a breakthrough in the month of delivery.
IV. Precious in the Lord, the ninth-hour miracles are instantaneous. And he took him by the right hand and lifted him up, and immediately his feet and ankle bones received strength. I say unto you, if thy shall believe, all things shall be possible through the power of Jesus Christ, which works in us. God is working; therefore, don't focus on the delay in childbirth, the marital challenges, joblessness, the loss of a source of income, or the prolonged health challenges. Ignore the messages of depression and turn them over to God. There is no contradiction in God's word; if He says all things shall work together for our good, then let's look at the end from the beginning. ONE THING I KNOW AND BELIEVE IS THAT IF GOD SAYS IT SHALL WORK FOR OUR GOOD, THEN IT IS SETTLED. This is a divine awakening word sent forth through the power and authority of Christ Jesus and to serve the brethren through GOD'S Vessel Francis Ameyibor, Yes! GOD is working all things together for my good, and it is intentional.
V. 2023 MY DIVINE YEAR TO PURSUE, CAPTURE, AND TAKE POSSESSION - I believe that God does not make mistakes, if He says all things shall work together for my good in this ninth hour, so shall it be this year and beyond.
PRAYER: Gracious Lord deliver us from any plot of the sons of Jacob. Let their schemes come to nothing. Disarm them for our sake and empower us to move on courageously through Christ Jesus' name Amen
Ref: Acts 3:1-10
Romans 8:28
Genesis 50:20
Deuteronomy 1:6&7
WHATSAPP CONTACT: +233277438688
GOD'S VESSEL GLOBAL FOUNDATION
-CDA Consult || Contributor