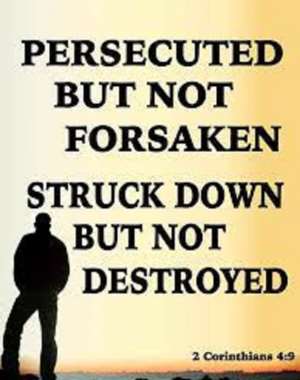 I. Daughter of Zion, may grace be multiplied unto you as we gradually move towards the end of the eighth month. Never give up or despair; the Lord has not deserted you. You shall fulfill that mandate, even if it has to be the ninth month. Never look back; continue to strive forward, for surely you will overcome. For the peace of God, which passeth all understanding, shall keep your hearts and minds through Christ Jesus as you journey through. As you daily move around, be sensitive in your spirit and watchful of those who move along with you. Wherever you enter, including the sanctuary, your office, cars, commercial centers, and meeting places, be sensitive to who enters with you. Be watchful. Now there was a day when the sons of God came to present themselves before the LORD, and Satan came also among them.
II. Son of Man, remember that wherever you go, there is a Satan located there to distract, frustrate, disorganize, and bring you down. But beloved, even though they meant it for evil, God will turn it to your good. Be watchful that you are not used as a weapon by Satan to accomplish his mission. We are hard-pressed on every side, yet not crushed; we are perplexed, but not in despair; persecuted, but not forsaken; struck down, but not destroyed, always carrying about in the body the dying of the Lord Jesus, that the life of Jesus also may be manifested in our body. Yes, conditions may be pressing you down, but don't give up. Friends might have forsaken you on the lonely road, but never be afraid, for you are in the company of God the Father, God the Son, and God the Holy Spirit; therefore, you are more than a conqueror.
III. My beloved sisters and brothers in the Lord, the accuser, Satan, may come along; don't forget the devil moves about like the roaring lion seeking whom to devour. Every day, the devil seeks someone to devour, watch out for, and not be a casualty. Don't be a hindrance to someone's blessings today. Don't be distracted from achieving your target for the day. What is the reason for you being among the sons and daughters of the LORD who are appearing before Him today? Don't conclude that you are all on the same mission in the sanctuary. WHAT IS YOUR MISSION FOR APPEARING BEFORE GOD? And the LORD said unto Satan, Whence comest thou? Then Satan answered the LORD and said, "From going to and fro in the earth, and from walking up and down in it". Satan had a purpose.
IV. Precious friend, should the Lord ask you today: "Where have you come from? What have you been engaging in daily? What will your response be? Have you also been moving from and to? How many sons and daughters have you betrayed? Satan replied, "From roaming throughout the earth, going back and forth on it". Are you among those roaming back and forth? Satan had an agenda moving around, looking for people to use. Satan moves around in the recruitment business. Watch and pray always; this is a divine word to awaken the sleeper, to warn the brethren sent forth through the authority and power of Christ Jesus, and to serve you through God's Vessel Francis Ameyibor, Yes! and Jacob awakened out of his sleep, and he said, "Surely the Lord is in this place, and I knew it not".
V. 2023 MY DIVINE YEAR TO PURSUE, CAPTURE, AND TAKE POSSESSION - Wake up from your sleep, thou sleeper, for it is time.
PRAYER: LORD, as I receive your word today, may its power wake me up from any area where I have been sleeping. Lord, any satanic person who enters my presence, may the power of the Holy Ghost arrest and expose all their works. Lord, wake me up to recognize and experience your awesome presence. May I never fall into the hands of any satanic agents through Christ Jesus, in whose name I pray, amen.
REF: II Corinthians 4:8-10
Job 1:6&7
Genesis 28:16
WHATSAPP CONTACT: +233277438688
GOD'S VESSEL GLOBAL FOUNDATION