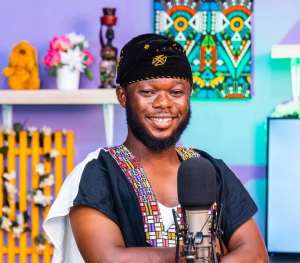 Northern Ghana has been a region that has been overshadowed by negative stereotypes and misconceptions for decades.
However, with the advent of social media and digital platforms, a new wave of young people are rising to change the narrative and showcase the beauty and uniqueness of Northern Ghana.
One of such individuals is Prince Hamdan Banagwine, a content creator based in Tamale, Northern Ghana.
Prince Hamdan Banang is a young and talented content creator who is passionate about promoting Northern Ghana's culture, traditions, and way of life through his content on YouTube.
He is the founder and CEO of Cowrie Media, a media company that specializes in videography, documentary, photography, jingles, commercials and also creating content that tells the Northern Ghana story.
Through his work, Prince Hamdan is challenging the misconceptions and stereotypes about Northern Ghana by showcasing the beauty of the region and its people.
He uses his skills in videography, photography, and storytelling to create content that captures the essence of Northern Ghana.
One of his notable projects is the This is Tamale, a documentary series that explores the city of Tamale's culture and lifestyle, available on YouTube.
The series covers a wide range of topics, including music, fashion, food, and tourism.
It provides viewers with a glimpse into the city's vibrant and dynamic culture and showcases the unique experiences that Northern Ghana has to offer.
Prince Hamdan's work has gained recognition both locally and internationally, he has worked with BBC Africa in producing a documentary about the Tallest man in Africa Awuche which went viral and subsequently touching the heart of Millionaire business mogul Dr. Daniel McDan who is the CEO of McDan Group of Companies.
He has been featured in various media outlets in Tamale mainly traditional radio to tell people more about what he does and has collaborated with several brands and organizations to create content that showcases the beauty and uniqueness of Northern Ghana.
Some of these include hotels, traditional authorities, individuals, government agencies supporting (recently in Upper west) and also social media brands like UDS Vibes and the premiere university in northern Ghana, University for Development Studies,Tamale.
In addition to promoting Northern Ghana through his content, Prince Hamdan is also passionate about empowering young people in the region.
In the future He wants to run a mentorship program where he coaches and mentors young people who are interested in content creation and media.
Through the program, he would provide them with the skills and resources they need to succeed in the media industry.
Prince Hamdan's work is a testament to the power of digital media in changing the narrative and promoting positive change.
By showcasing the beauty and uniqueness of Northern Ghana, he is inspiring a new generation of young people to take pride in their culture and heritage and challenge negative stereotypes and misconceptions.
Prince Hamdan Banang is a trailblazer in the content creation in the north and a beacon of hope for Northern Ghana.
Through his work, he is changing the narrative and perspective of the region and inspiring young people to take up the mantle and promote positive change.
We need more individuals like him who are passionate about promoting the beauty and uniqueness of their cultures and challenging negative stereotypes and misconceptions.
Visit to see more of his works on:
YouTube: Prince Hamdan Banang
Facebook: Prince Hamdan Banang