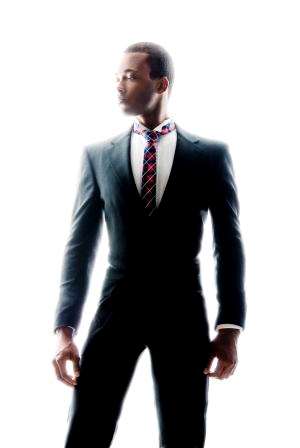 Ethiopian Model/Actor/Dancer/Wardrobe Stylist, Estifanos Berta-Samuel shares his unique sense of style.
Favourite fashion designers
Christiane King from the Ivory Coast; Ozwald Boateng from Ghana/UK, Machere of Stoned Cherry in SA, Angela Dean from Los Angeles, CA, Mantsho by Palesa Mokubung SA, Gucci, Salvatore Ferragamo, Michael Kors U.S.A, and Issey Miyaki of Tokyo, Japan
My trendiest fashion accessories of the moment
My fedora, skinny neck tie, bow tie, and bracelets
Suits or African wear?
I love both suits and African wear my sense of fashion is very much like a chameleon I love changing it up!
Boxer shorts or briefs?
I like to feel free and have room to move. I save the briefs for the runway and print ads.
Cufflinks or button?
I prefer cufflinks if it's an upscale look and that really helps to make a boring suit come to life for me and I like that look of wearing gems/stones.
Tie or no tie?
I can go either way with ties or not just depends on what look I want to achieve.
Leather or metallic watch?
I love both types of watches I think leather on a watch tends to look a little more leisurely and the metallic one always make the look more upscale for me.
Shoes or sandals?
I am a shoe whore so for me its shoes & sandals in every colour style from any country as long as it catches my eye!
Spray deodorant or roll-on?
I prefer spray deodorants because they don't soil clothes, and the designers and stylists are happy.
Shaving machine or shaving stick?
Shaving machine by far is the best, being an African most razors rip my skin apart and cause me to have ingrown hairs, blemishes, and razor bumps which are a not a good look for my career!
Clean cut or braids?
I like braids, clean cut looks and also big hair. I had an afro some time ago but my agents thought I was too readily identifiable as an Ethiopian. They had me cut it and now I look "International"
Beer or vodka?
Don't like the taste of beers at all and they are completely bad for me because of the yeast. Vodka is always a nice choice but my drink in Jonny Walker Black Label.
Skinny jeans or baggy jeans?
I don't wear either: while I like them I'm too "curvy" and my butt is too big for skinny jeans so I can't wear them unless I want "a certain type of attention" and that ain't cool. Baggy has never been my taste but I do like to feel comfy in my jeans so they can't hug me.
Tucked in or sagging?
Tucked in works if its business or pleasure time out depending on how I feel. Never sagging for me just because I had Black Americans tell me the true meaning behind wearing them that way and again that ain't cool.
Cocoa Butter or Vaseline
I prefer cocoa butter much more it lifts dark spots and is super emollient but rather pure African Shea Butter above anything. Vaseline is too greasy and attracts too much dirt.
African beads or chain?
I love beads and chains alike especially the ones you find on the street at the vendors all over Africa!
Favourite colour of clothing
I love Blue and Black. However, I love colour period so I wear everything that looks good on me and compliments my skin tone.
Favorite perfume
Salvatore Ferragamo, Mant Blonc