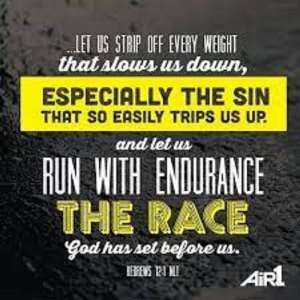 I. BELOVED IN THE LORD, as we navigate 2023 may you receive fresh anointing to do great and mighty things for the Lord. Brethren the good tiding is that 2023 is not your destination, it is the start of another milestone. Move on and look beyond for greater accomplishments. Whatever stage of life you find yourself currently, it is definitely not your destination. Press toward the mark for the prize of the high calling of God in Christ Jesus. LOOK BEYOND YOUR CURRENT JOB AND POSITION, AND CLIMB THE LADDER THAT GOD HAS PLACED IN FRONT OF YOU THIS YEAR.
II. DAUGHTER OF ZION, entering into a relationship is not a destination, marriage is not a destination, bringing forth children is not a destination, and divorce is not a destination. Don't allow temporal accomplishments, enjoyment, or hardship to cut short your movement toward the goal. You must move from one milestone to another. In 2023 we must work the works of Him who sent us while it is day; the night is coming when no one can work. MILESTONE ONE IS NOT A DESTINATION, IT SHOULD CHALLENGE YOU TO TARGET MILESTONE TWO AND BEYOND.
III. SON OF MAN God has set a journey in front of you in 2023 and beyond. Each month of the year is God's milestone. You have 12 milestones ahead of you for 2023, pursue, capture, and take possessions. Look beyond those 12 milestones, God says look ahead for you are more than able to accomplish them, and don't limit yourself, don't set destinations. Let us look ahead, for retirement is not a destination, losing your job is not a destination, and mourning the loss of a loved one should not be a destination. Death is not a destination, for the day is coming when the Lord himself shall descend from heaven with a shout, with the voice of the archangel, and with the trumpet of God: AND THE DEAD IN CHRIST SHALL RISE FIRST.
IV. BELOVED SISTERS AND BROTHERS IN THE LORD wherefore seeing we also are compassed about with so great a cloud of witnesses, let us lay aside every weight, and the sin which doth so easily beset us, and let us run with patience the race that is set before us this year. In 2023 cut unproductive lifestyle, stop procrastinating and set to work. In 2023 look at your dreams again, are you on course for its accomplishments? Beloved, 2023 is not your destination, just disembarked from flight 2022 and embark on flight 2023. This is DIVINE PROPHETIC DECLARATION sent forth through the Authority and Power of Christ Jesus and serve the Brethren through God's Vessel Francis Ameyibor, Yes! The airport is not your destination, move beyond for another phase of your journey that has just started.
V. 2023 MY DIVINE YEAR TO PURSUE, CAPTURE, AND TAKE POSSESSION - And David inquired at the LORD, saying, Shall I pursue after this troop? shall I overtake them? And he answered him, Pursue: for thou shalt surely overtake them and without fail recover all.
PRAYER: It shall be an error to attempt to curse me this year, for the God I serve will turn it into an equal measure, press down, shaking together, and running over blessings for me. God shall use anyone who attempts to curse me this year as a tool for great TESTIMONIES to glorify His Name through the power of Christ Jesus I pray AMEN.
REF: Philippians 3:14
John 9:4
1 Thessalonians 4:16
Hebrews 12:1
1 Samuel 30:8
WHATSAPP CONTACT: +233277438688
GOD'S VESSEL GLOBAL FOUNDATION