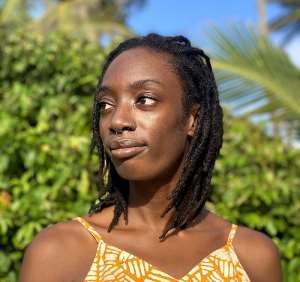 Image credit : Araba Ofori-Acquah by Kumi Obuobisa taken at Kokrobite, Greater Accra, Ghana
The Society of Authors (UK) has awarded Araba Ofori-Acquah the World of Books Impact Award, and accompanying grant, earmarked for books "that have the power to inspire progressive behaviour change". Her debut novel 'Return to Source: Unlock the Power of African-centred Wellness' will be published by Hay House in April 2023.
The book is an invitation for Black people around the world to reconnect with the wisdom and practices of their Ancestors as a route to healing and belonging. In it, Araba discusses identity, African history, decolonisation and the common cultural threads that Black people can now reclaim to sew into the fabric of their modern lives for wellbeing and growth.
"My book is intended to be a healing and empowerment tool for Black people around the world, and especially the Black British community, so to be recognised by such a prestigious organisation for the positive impact this book will have is extremely affirming." - Araba Ofori-Acquah
The Society of Authors has awarded a total of £179,750 in financial grants to 69 authors to support the completion of their writing projects. The grants are part of the Authors' Foundation and K Blundell Trust and are currently given twice yearly to afford authors time to write, to help with research costs or to otherwise fund their work. The SoA is the century-old UK trade union for writers, illustrators and literary translators, at all stages of their careers.
About Araba Ofori-Acquah
Araba Ofori-Acquah is a healer, writer and cultural curator interested in the preservation and reimagining of African tradition for the healing and empowerment of the global Black community. Writing creative non-fiction, short stories and poetry, Araba explores identity, mental health, the female experience and the many shades of Blackness. Her pieces are published or forthcoming in a number of journals and anthologies, including those published by the Ama Ata Aidoo Centre for Creative Writing and Jalada Africa.
Araba's journey to becoming a healer began with herself, through experiencing first-hand the power of talking therapies, mind and body practices and meditation. Inspired to create safe spaces for other Black people, Araba studied different healing modalities, including a 200hr Yoga Teacher Training in India, an NHS-accredited Wellbeing Coach qualification and the study of Advanced Pranic Healing in Ghana. Drawing on her experiences as a Ghanaian-British woman who searched in vain for ways to achieve wellbeing that felt authentic and in alignment with her African identity, Araba's debut book is a timely guide that gives readers an insight into traditional African knowledge; with a view to making it relevant and accessible to Black people of any religion or spiritual belief who simply want to live well.
Brimming with hard-earned wisdom from seldom reached sources, 'Return to Source: Unlock the Power of African-centred Wellness' is much more than a personal development book. It is an accessible, powerful and practical guide to rediscovery and reconnection for Black people, that leads readers through unlocking the power of soul-affirming wellness practices.