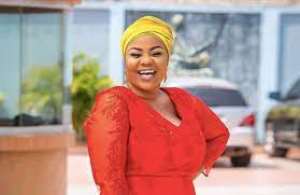 Renowned gospel songstress Gifty Adorye has cautioned women against abusive relationships.
Speaking on the death of Nigerian Gospel singer Osinachi Nwachukwu in a recent interview on Joy FM, the 'Aseda' crooner indicated the late songstress had endured her abusive marriage due to what people say.
The Nigerian songstress passed on earlier this month amidst reports of marital abuses.
"If this woman had this thing that is called self-confidence, she would have gone a long time but because of what people will say, maybe she could have lost her pulpit to sing.
"There are so many clauses that made her stay two, they will say because of the children, but you'll die and who will take care of the children? Move," she told host Lexis Bill.
She added that she will never advise young women to stay in abusive relationships since they may die before their time.
Mrs. Adorye emphasized that abusive partners always lure the victims by showing remorse and always attributing their acts to the devil.
"I am telling them to run away from abusive relationships, the devil has no idea of that beating. In fact, he is busy somewhere," she added.