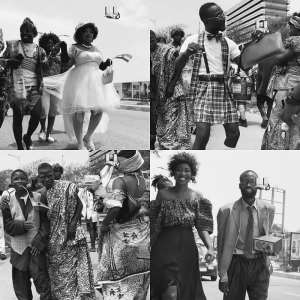 But for recorded videos and TV journals, a greater chunk of youngsters have definitely no idea the way Ghanaians lived after independence.
The dressings seem weird, the music had so much lead guitar and horn if it was highlife but heavy drum, loud techno snares, overriding bass guitars, and a lot of laser effects when it was discotheque music.
Accra, according to older folks was not too crowded, and the easiest ways people catch fun was to be found at dance centers and on some occasions.
One of the outstanding aspects of post-independence fashion was the fact that people wanted to have a touch of the western world and that of the locals, fuse them up, and hit it out their own way.
The confidence with which people walked past each other during events was so indescribable.
During the just-ended independence day celebration, some young Ghanaians lined up the streets of Ghana to give a taste of what the post-independence looked like.
Marching along the Accra High Streets to the independence square the fancifully dressed individuals several fashion forms and models.
Check the highlights out;