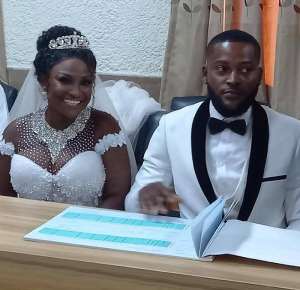 Ghanaian radio personality Abena Moet married just two weeks ago in Accra and gained a massive publicity, but says there's nothing special about 'marriage'.
For the Okay FM and Neat FM co-host, marriage is just like a regular daily routine with your boyfriend or girlfriend.
Moet, who is on honeymoon with her husband, shared her marriage experience with her followers on social media, saying 'it isn't a sh*t'.
"Let me tell you. The way everybody makes a fuzz about marriage, it isn't sh*t. It's nothing," she said in a video she posted on her Instagram page. "There's nothing special about it (marriage). It's only for a man to be sending you anyhow."
Some social media users agreed with her, including Sister Afia's manager, Bossu Kule.
"I always say that. There's nothing special about marriage. Just constant and approved sex certificate to bring kids to this world. Aside that, nothing extra," Bossu Kule wrote.
And when his comment was opposed, he insisted: "Y'all exaggerate marriage too much. Of course, it comes with benefits but what she's saying is it's nothing extra to the extent where society can stigmatize a woman who isn't married. If it is friendship most single ladies have male friends, they are really close to. Like I said, aside the sexual certificate you get to build a family, there is nothing extra. It's no rush, and it's no crime if a woman isn't married, as long as she is happy in her own world, no one should force her into marriage."
Another social media user, who agreed with Abena Moet, stated: "It's true. Most of them become lazy when they marry n be sending u anyhow."