How to save your breast from sagging/falling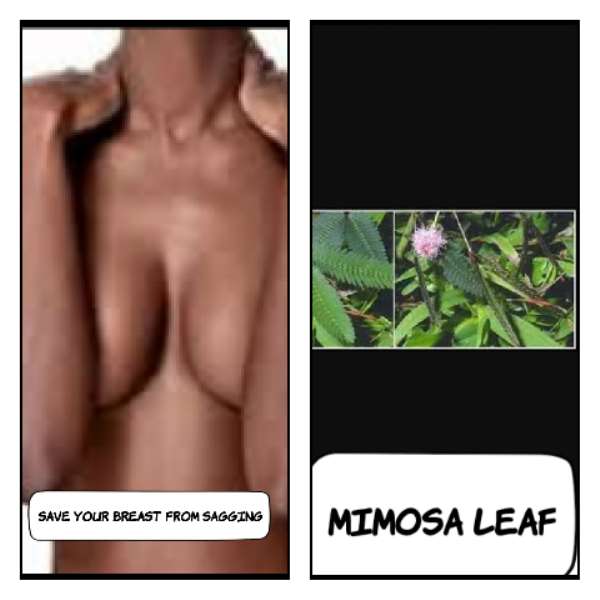 One of the biggest fears of every woman is having a sagging breast as she ages. And men who do know what breasts worth in relationship dreams all the time having that of their woman's boobs standing strong as she was met in her teens.
But no, the cycle of nature must wear to expiration every beautiful thing created.
To overcome these fears, some women resort to all sorts of surgeries to maintain their "teen-age-breasts". In the end, it mostly goes bad and causes many health problems to the woman. Cancer not ruled out here the least.
Nature, unknowingly to many of us, do have the answer to these fears in a flower we see in our homes and by the roadside everyday.
It's called _Mimosa leaf. Or Touch me not._ It's sensitive and folds up when touched by an object, or your finger.
The Twi people of Ghana call it _Aberewa kata w'agyapadeɛ so._ (Old Lady, cover your private part/vagina).
It's composed of many medical compounds, including alkaloids, tannins, flavonoids, saponins and fatty acids.
Hence it's a useful herb to heal wounds, cure diarrhoea, fights cancers, and stop bleeding and menstrual pains.
But today, we're only focusing on how this magical leaf saves the almighty breast.
You'll only grind or pound these leaves into a paste or potion after washing clean. Just apply it, massaging all over the breast when going to bed. You can add shea butter to it. If you have concerns dirtying your bedsheet with the concoction, put on a loose brassiere (bra) with an inner lining.
After two weeks of constant application, you'll testify how powerful this nerve sensitive leaf is. You'll maintain your beauty and your man. 🤗
AfTraditional Medicine 🪵🌱🌴 gives free tutorials on the usefulness of herbs. You can join our platforms via +233-249542111. Or contact us for alternative solutions in your healthcare needs.
Written by: Charles Yeboah (Sir Lord)
Contact: +233-249542111
Email: [email protected]