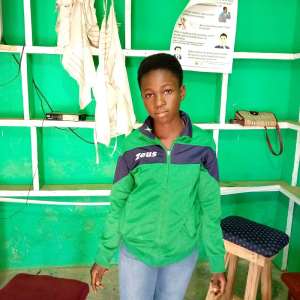 Have you ever seen a kid Barber before if yes, where? And if No then Ghevent TV brings you all you need to know about 11-year-old Suzy Armah who was spotted in her barbershop at Yawamatwa in the Bia West District of the Western North region.
Little Suzy is a Junior high school pupil of D/A Junior High School at Yawamatwa.
On Thursday 6th August 2020, Ghevent crew went through the length and breadth of Sefwi Yawmatwa looking for newsworthy stories to feed our ardent audiences in Ghana.
On our way to a location within the town, a member of the crew asked town folks of a barbershop to trim his hair and we were directed to a small barbershop in town, and to our surprise we met little Suzy busy rendering service to her old male client.
We were dumbfounded seeing a female at her tender age doing marvelously well and very professional with her craft, something which is rarely found in Ghana
We caught up her for an exclusive interview with Ghevent – the super talented Suzy revealed to us that aside from being a professional barber she is also a great dancer. She added that her barbering skills is a talent from God and never learn from anyone.
"I woke up one day and her brother wanted to shave but there was no money to go the barbershop, so I offered to help him out – it was a bold decision telling my brother I would help trim his hair and the whole family burst into laughter, many said this girl you are very funny. But I never allowed the mockery to be an obstacle.
I went straight into the room, picked up a comb, a pair of scissors and blade,told him to trust me and sit down." Suzy recounted.
"My brother gave out the condition that, after I finished and it doesn't look nice, he was going beat me up and I boldly agreed to his condition." She added.
Concluding our conversation with her, she talked about her ambitions, the future of her barbershop and more.