Stacy Amewoyi Gears Up To Release 5 Books Of Realities Of Life & Relationship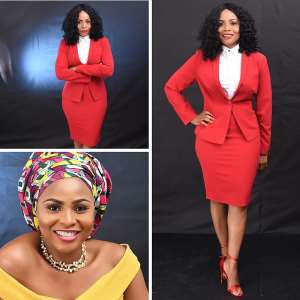 Stacy Amewoyi believes that a change in every aspect of life begins from the younger generation from the continent. If they are equipped with skills and income, they can help move any country forward.
And to mark her birth in July, Stacy will be donating a total of twenty sewing machines to young seamstresses in Cape Coast and Takoradi – ten in each region, and an undisclosed hefty sum of money to twenty selected young and hardworking men (ten in each region) in the two regions. In All, 40young people from the two regions will benefit from the donation, a gesture she maintains as a form of worship and gratitude to God.
She developed the love for writing novels and more and has since published top-selling works like The Kings Choice and The Price Of Love, she is currently working on The Languages & Key Of Love and also Missing Fathers.
Stacy prefers to write about her real-life events and that of others, and the Missing Fathers encompasses that. With life stories of many well-established businessmen and women across the globe that grew-up without knowing who their biological fathers are.
Before issuing Missing Fathers for the market, she will be publishing her first batch of books under The King's choice Publishing House; the titles include The Science Of Love, How Could I Have Known, Victim Of Circumstances, Love Mystery Born and Silence Of Love. And, she has also promised more packages which will follow right after these aforementioned imminent projects are released.
The African most well-known humanitarian, entrepreneur, and award-winning author Stacy M. Amewoyi is fully on the vend to outdoor her next outstanding novels in 5 books, exclusively stirred by the mysteries of life and relationship issues.
The book from the encampment of TKC Publishing House set to officially go public this month of July counts from;
Silence of Love
How Could I Have Known
Victim of Circumstance
Love Mystery Born
Science of Love
Brief
The Silence of Love shines countless spotlights on the untold hazards engulfed in holy union and how it could be fixed. The book as written by the author outlines measures one can apply to sustain & sharpen a relationship/marriage for life.
"How Could I Have Known" reads an entire reflection of the skirmishes of life from all sort of human prospects.
Victim of Circumstance will leave a deep mark on your heart and mind as it voices out how circumstances get embedded in our daily lifestyle, yet there's always a key element that turns out to be a blind spot whilst all our attentions are been shifted elsewhere amidst the challenges.
The Science of Love takes us to the laboratory of love as most chapters of the book are dedicated to all love bird on this planet.
Love Mystery Born reminds us how love always has a whole lot to offer and the shocking lessons that come with it. Reading these books and chapters to the end shall transform your relationship life to another level of understanding.
All the 5 books as listed above and fabulously written by the African best-selling author, author of the year award holder and the 3G Award recipient shall be released at once on the same and same time.
Information on the book release can be found via all social media platforms of the author as stated below.
Follow Stacy M. Amewoyi via all social media Platforms for daily updated on where to grab a copy of the book in Ghana, USA and a near buy store in your country of residence.
For more information visit: Stacymfoundation.org
Facebook:TKC Publishing House
Instagram: @thekingschoicepublishinghouse
Twitter:: @stacymfoundati1
TO PRE-ORDER ANY OF THE BOOKS, CALL +1-3013233748 / +19084160457 / +233 0570587299