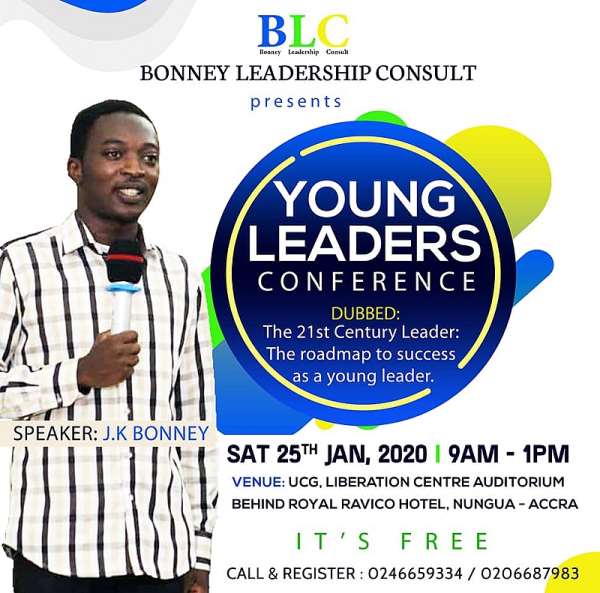 Leadership is the pivot to any development in an organization or government. The youths are the future of the nation and proper leadership skills will have to be taught to these young ones who very soon will take up leadership roles in organizations, churches, and the nation but may not have the opportunity to go to business school.
Leaders who have their followers and stakeholders are heart, leaders who seek for prosperity for all, leaders who are achievers, leaders who are thinkers, leaders who can take bold steps in favor of all, such leaders are needed now than ever and as it is said leaders are not born but made, but I believe leaders are born and made, and as such they have already been born but yet to be made into leaders.
This first Edition of Young Leaders Conference is being organized by Bonney Leadership Consult on the theme "The 21st century leader: the roadmap to success as a young leader" at UCG, Liberation Centre, Nungua – Accra behind Ravico Hotel on 25th January 2020.
Some topics that will be treated are; Leadership (who a leader is, the qualities of a 21st Century leader etc), Teamwork, and the life of a leader. There will also be discovery studies where participants will discover for themselves some key qualities that some great leaders.
The focus of this Conference is to build the future generation of leaders with the competence and skills needed to lead organizations into prosperity.
The speaker Joshua Bonney is a young man who is passionate about leadership and has led many teams and groups to chop great successes from his university days. He holds a degree in Economics and Information Studies and currently undertaking a master's degree in Leadership and Governance at the University of Ghana Business School. He is the CEO of Bonney Leadership Consult, a consulting firm that provides executive coaching, leadership training and leadership consulting.