The sad story of a widowed woman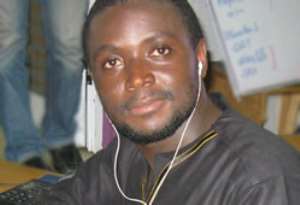 The feature story on Matilda Lamptey© Copyright myjyonline
The story of a poor widow shunned by her family but has to cater for six children, triggered an avalanche of calls into Joy FM on Friday with pledges of support for her.
Thirty-nine-year-old Matilda Lamptey of Santa Maria in Accra is determined to see her children through school to completion but that urge has only translated into a dream yet to be fulfilled as she can barely make ¢1 to care for her them.
The eldest, who is 18 years, is in senior high school but she is always shown the exit from the classroom because she has no money to pay her fees.
"She has to pay GH¢40 for this term but she has other arrears which sum up to a little over GH¢100. Authorities of the school have told her she will be sacked this week but that is yet to happen. I feel bad about this because this is not how I expected my life to be and worst of all is what my children are going through. I regret my predicaments and I am often reduced to tears all day in indoors," Matilda said amid sobs.
What perhaps disturbs her the most is her inability to service her light bills. She told Joy News' Seth Kwame Boateng she has slept in darkness with her poor family for more than a year now. Her children struggle to study in a candle-lit room.
Matilda had been married to her husband for 17 years when he died after a short illness two years ago.
Although, according to her, she has tried to pull herself together to face life, the uncertainty surrounding the future of her children, her only hope, bothers her so badly.
"I cry everyday and ask God why he is allowing a young woman like me with six children to go through such difficulties. Life has become more difficult now because my family of six children struggle to eat every day. The baby cries from hunger everyday and that is pathetic. I have to negotiate with my kids everyday about what to eat because I don't have the money to provide for them," she said in Twi.
Matilda's fourth child, 11-year-old Michael Hillar, dreams of becoming a pilot one day, but he has doubts about his dreams.
"I tell God he should give my mother money and many things so that she can give us some to go to school," he said.
Besides her financial problems, Matilda has other challenges to grapple with.
Her husband's death has exposed her to constant abuse by family members, adding: "They don't regard me as a human being." The hurl insults at her at the least provocation.
When Drive Time host Bola Ray played the feature on Matilda on Friday after the reporter Seth Kwame Boateng had appeared on the show to elaborate on the predicament of the woman, hearts were touched.
Whilst Matilda tries to contend with the situation on hand, however, some female right activists believe there must be a special legislation to protect widows.
Akumaa Mama Zimbi, president of the Akumaa Mama Zimbi Foundation said such legislation will ensure that widows are not exposed to untold hardships.
For now all that Matilda is looking for is a little money to start a small business to make some profit to take care of her children.
She also prays that single mothers and widows like her will be treated with a little more respect.
To donate to support Matilda and other widows in such situations, call Seth on 0243149169. Play the attached audio to listen to the report filed by Seth Kwame Boateng
Story by Fiifi Koomson and Seth Kwame Boateng/Myjoyonline