Commercialisation Of Brideprice "Disgusting" -Chimamanda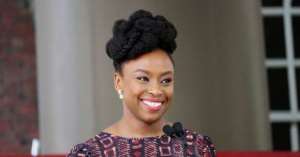 Nigerian author and social activists Chimamanda Ngozi Adichie has decried what she calls the "commercialisation" of brideprice, saying she finds it disgusting.
Speaking with a group of young people in Lagos Saturday, the awarding winning author called for a rethink about the ways marriages are being done in contemporary times.
It is unclear what provoked her post, but according to her, brideprice, back in history, was fundamentally a man taking gifts to the wife's family, "but there was also an exchange of gifts."
In her post, he observed that the exchange of gift was "a bit more fluid" but now there is a "whole commercialisation of the idea."
She said: ''If you go back in history, the idea of marriage is different from what it is today. The idea of brideprice was fundamentally the man taking gifts to the wife's family, but there was also an exchange of gifts. There are things the brides family will also give to the grooms family. There was an exchange and it was a bit more fluid. Now, there is a commercialism to the whole Idea that I really find digusting.
"I think we really need to rethink the ways that marriages are being done because it is dangerous in so many levels that many men who think that afterall he paid thousands and so she belongs to me and so If i decide that she should stop working, she should stop. I am not a fan of brideprice'' she added.