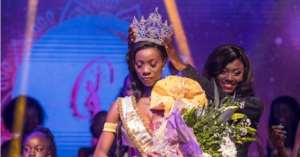 Miss Akpene Diata Hoggar, the representative from the Brong-Ahafo Region of Ghana was left joyous after she was announced winner of the 2018 edition of the Miss Universe Ghana pageant.

Akpene Diata Hoggar who is a model, blogger and an entrepreneur also aspires to become a global change agent.
She was part of the final ten contestants who survived the various stages to the run up to the final out of the over 200 ladies who started the competition a few weeks ago.

She has also won herself a new car which is the ultimate prize for the competition.
The runner-up to Akpene Diata Hoggar was Vanessa Tekor Akuetteh, a budding paralegal and a model, mounted the stage on behalf of the Western Region.