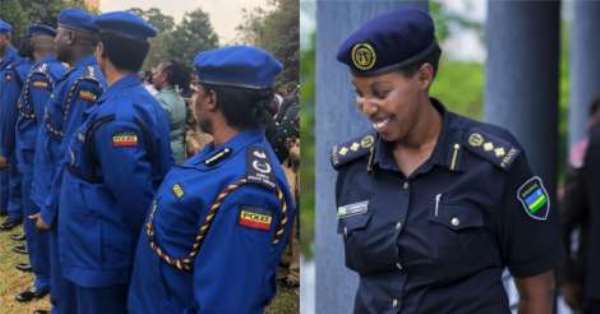 On Thursday, President Uhuru Kenyatta launched a new police uniform for the Kenyan police service.
Speaking during the National Security Conference while launching the policy framework and strategy on reorganization of the Kenya national police service, Mr. Kenyatta said 24,572 Administration Police Service officers will join 39,680 Kenya Police Service and together form General Duty Police.

President Uhuru Kenyatta poses with police officers donning the new Kingston blue uniform. (PSCU)
These officers will conduct their operations in the new all Kingston blue uniform and will be under the command of Deputy Inspector General.
"We want to have better visibility of the officers by introducing the new uniforms," he said.
At the same time, Mr. Kenyatta abolished 12 positions in the National Police Service (NPS).
'All police wards posts and out-posts formerly under the administration police service shall fall under the General Duty police. Those who thought that AP cannot take you to court you will see it take effect,' he said.

Kenya police officer clad in their new Kingston blue uniform. (PSCU)
The scrapped positions are; Administration Police Service regional commander, Police Service regional commander, DCI regional commander, County co-ordinating commander, Police Service county commander, AP county commander, DCI county commander, AP sub-county commander, DCI sub-county commander, Police Service OCPD, District AP Commander and AP Ward commander.
"These reforms are aimed at making the police a service that is respected rather than a force that is feared," he added.

President Uhuru Kenyatta shaking hands with police officers clad in their new Kingston blue uniform. (PSCU)
The new police uniform however, didn't impress a large section of Kenyans who labeled them ugly, dull, old fashioned and uninspiring, some going even as far as labeling it a cheap imitation of the Chinese national police uniform.
For the better part of the day Twitter was lit with Kenyans criticizing the new uniform under #PoliceReforms.
Business Insider SSA takes a look at police uniforms in East Africa and examines just how they compare with the Kenya's new general unit police uniform.
Rwanda


Rwanda police officers. (twitter.)

Rwanda police officers dress in a dark blue uniform and honestly they look beautiful in them.
Tanzania


Tanzanian police officers (bbc.)

There is nothing to write about Tanzania's police officers uniform apart from they would look good if they were forest rangers instead.
Uganda


Uganda Police Force (Twitter)

Kenya's new police uniform might be dull and ugly but it doesn't compare with Uganda's.
Uganda police are dressed in a single beige uniform from head to toe, and look like a ragtag under-equipped colonial force the British forgot to dismantle.
Burundi


Burundian police officers (Wikipedia)

Kenya might have looked towards Burundi while picking up the new police uniform because they do share some uncanny resemblance.
Burundi's police uniform is ugly, dull, old fashioned and uninspiring just like Kenya's.
South Sudan


South Sudan national police service (SSNPS) (CGTN Africa)

South Sudan police officers dress in light green uniform complete with white gloves and white spats which deeply contrast with their beautiful black skin tone.
Ethiopia


Ethiopia Federal Police (Rapidbliz)

Ethiopia Federal Police officers dress in a grey with light blue spots military like fatigue which they have learned to own and now look like action heroes.

Ethiopia Federal Police officers (leadership.)