From Maamobi To Greatness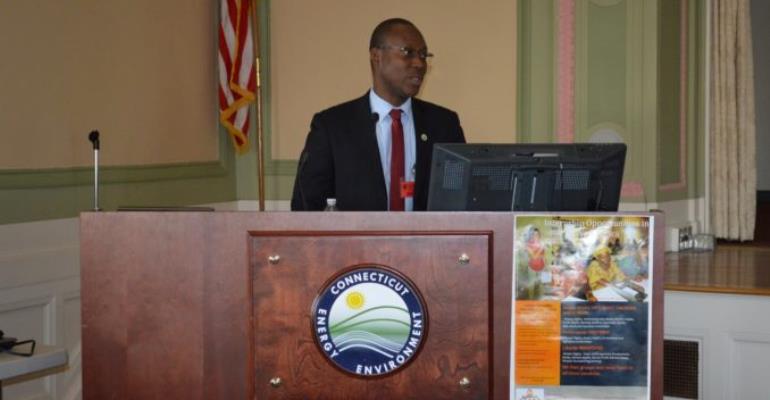 Recent events in Sierra Leon has made it not the most desirable place to be in the already troubled West Africa sub-region. Though rich in mineral resources like most of Africa, pointless coups have left it in a devastating state. Its people are however, wonderful who are doing their best to rebuild a once beautiful country.
You see this clearly unfolding from the many posts on the Facebook wall of Simon Eyram Tsike-Sossah who though Ghanaian, appear to feel very at home in Salone as he affectionately calls her.
Simon is your typical Accra boy but with a twist. He seems too honest and just in his posture either in pointless Facebook debates or in serious matters concerning the growth and demise of nations. Even in his trivial posts, he is considerate and just, yet firm and brutal. I concluded that the best two word description of him is "brutally honest". He brings that posture to everything he does along with a burning passion to see the continent and its people thrive. This is what has led to what he does for a living. In the last few years, he has been consulting for the UN, USAID, Actionaid and a host of other multinational organizations specifically in Sierra Leon though he was based Haarlem.
His years of work in that country has made him an expert on matters concerning Sierra Leon. In the elections of 2018, Simon was very active all through the period away from the comfort of his home in Haarlem as he worked tirelessly towards a free and fair election. He was able to "predict" Sierra Leone's election – both the first and second rounds and positively impacted in that country. The drive to see good governance in Africa has led to the ambitious project govTracker which he says he is 90% close to formerly launching starting with Sierra Leone. govTracker is a web-based application that will track and show what governments are doing over time. In the future, Simon hopes it will track the work of all governments across the continent.
We asked Simon what are his greatest achievements are and he modestly stated;
"Supporting and guiding over 3000 young people in Sierra Leone, Ghana and Liberia are some of my achievements I would say – I have trained more than 4,000 in total including prisoners (in Ghana). Some 100 of these people consider me a mentor and I keep in touch with them via whatsapp and other social media tools."
Simon is easily one of the very few Ghanaians who have the needed drive and understanding to lend a shoulder to the slow-moving Sierra Leonean wheel. Recently moving with his Dutch wife and two children to the West African nation, Simon has established what he calls Africa's first for-profit Think Tank; Think Africa Institute (TAI). TAI has trained over 500 people across West Africa and has worked with organisations such as Oxfam, Actionaid, UNEP, USAID among others. In its very short existence, they have offered internship opportunities to 2 Ghanaians 2 Sierra Leoneans and they expect to have 10 young people benefiting from their guidance and mentorship over the next 6-12 months.
As a consulting firm whose vision is to provide the environment necessary to Create, Share and ShedSMKnowledge across Africa, it provides a wide range of services including: Training, Strategy Development and Planning, M&E Services, Fundraising, Content Development, etc for NGOs, UN agencies and the private sector in Africa as well as individuals. Simon envisions that in the next five years, TAI should be a training and policy hub in Sierra Leone and across the ECOWAS region. TAI will be a household name across Africa in 10-years as the centre of excellence in "Thought-prenuership" and policy dialogue.
"Our tag line Create, Share and ShedSM Knowledge represents the totality of our philosophy. We believe each activity we do must lead to all three outcomes – create, share and shed knowledge" he says.The philosophy is broken down thus:
Create: We believe knowledge is created and every training/assignment we host/undertake MUST create knowledge.
Share: We believe KNOWLEDGE must be shared. Our training/assignment MUST lead to that.
ShedSM: Shedding Knowledge or knowledge shedding is our service mark (SM). We believe knowledge can be "Shed" – that you leave old unusable knowledge at the end of each session and day.
"I grew up in Maamobi is East Ayawaso. My house was across the street from the Maamobi Polyclinic – so I would say, I am a "zongo boy" – generally, I would say I do not have a trailblazer in my family where I am the last of 15, 16 or 19 (I am not sure at this time how many siblings I have) but as far as I know, I am the most formally educated (2 Masters and now studying for my Phd). I think it is important to recognise what determination can do – I just decided I did not ever want to live the way we lived when I was growing up and that I think was 90% how I got to where I am now".
To us at SPiD-UP Africa Simon epitomizes everything determination encompasses. He is one of very few sons of the soil who has Africa at heart and that explains why he will leave a comfortable life in Holland for the very under-construction Freetown where he complains having your internet connection alone is a nightmare. Unlike most, he sees an opportunity to serve and make a change. We believe the determination that brought him from the heart of Maamobi to 2 masters degrees will no doubt lead him to greatness through his need to move Africa to its rightful place. Team SPiD-UP will keep an eye out and bring you updates on what Simon and his team are achieving in Sierra Leone in the years to come. In the meantime, you may visit the TAI website for more information www.thinkafrica-institute.org , www.facebook.com/ThinkAfricaInst
Source- Spid-up.info