Refreshing Smoothie Recipes To Uplift Your Spirit This Morning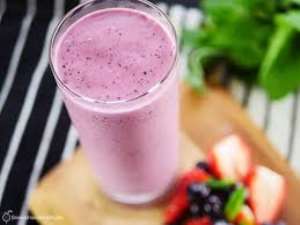 Peanut Butter and Banana Smoothie
This protein-packed smoothie is perfect for people who wake up hungry and need fuel to burn throughout the morning. Containing both tofu and peanut butter, it delivers 18 grams of protein per serving. Rounded off with spinach and bananas, this smoothie gives you a morning serving of fruit and vegetable, too.
Pineapple Breeze Smoothie
This is another protein-rich smoothie option, providing 12 grams of protein per serving. It's made with tofu, spinach, bananas and pineapple and is perfect for those who enjoy the refreshing flavor of tropical fruit in the morning. Plus, pineapple contains bromelain, a helpful digestive enzyme.
Cleanse & Detox Smoothie
The best way to detox is to eat foods that boost your detox organs' ability to do their jobs well. Give your kidneys and liver support with this smoothie, which contains parsley, cinnamon, lemon and kale to help your body cleanse itself.
Pick Me Up Breakfast Smoothie
This smoothie has the classic combination of strawberry and banana. It also contains spinach and flax seeds, boosting antioxidant, phytonutrient and omega-3 content. This is a high-fiber smoothie, with 11 grams of dietary fiber per serving. Fiber is an important component of heart disease prevention as well as weight management.
Superfoods Smoothie
"Superfood" is a word we see and hear a lot, but what does it mean? A superfood is a food that is very high in nutrients. This smoothie incorporates seven superfoods: Greek yogurt, berries, green tea, pomegranate juice, banana, baby spinach and ginger. It will give you a massive dose of vitamins, nutrients and antioxidants all in one glass.