Meet Felicity Nelson, Ghana's Finest Analyst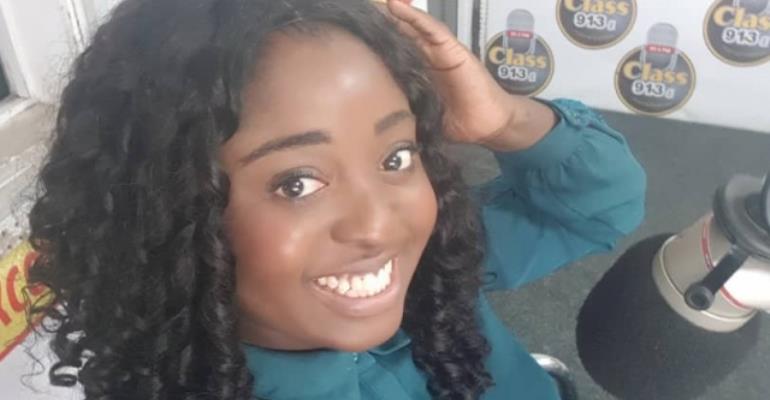 Listening to the Executive Breakfast Show (EBS) on Class 91.3 FM during the week in the mornings, is just amazing and lovely when one hears the voice and analysis of Ms Felicity Nelson, who has won my heart and the hearts of many discerning listeners as one of Ghana's finest, if not the finest analyst on our airwaves.
What makes her analysis interesting and enlightening is that she tackles the root causes of our dysfunctional system in Ghana and offers alternative credible solutions to our challenges and problems.
Ms Nelson, who has a Degree in Politics and Economics from London Metropolitan University, is refreshing to listen to, as she delves into national and social issues on the economy, health, politics, religion etc, without fear or favour and defends the tax payer and the ordinary Ghanaian citizen. She is without a word of doubt a tough personality and great inspiration to women in Ghana.
She wept once on the Executive Breakfast Show during the discussions on the no bed syndrome, after a woman had narrated her ordeal at the point of death and got turned away from a hospital with the explanation of unavailability of beds.
The victim's situation got even worse with no ambulance to assist in seeking early treatment.
On another occasion Ms Nelson drove a teenage girl who had been impregnated and abandoned to a hospital where she made sure and succeeded in getting the teenager and her mother a health insurance card. She was moved by compassion after the news broke on the Executive Breakfast Show on Class 91.3 FM. Her act of kindness towards the innocent teenager was boundless, touching and patriotic.
It's certain that, Robert Israel, the Lead Producer of the EBS has discovered not only a great talent but a real game changer for intellectual opinion on matters of national interest for the listening pleasure of morning show enthusiasts.
What does Felicity represent or stand for? Listening to her analysis on social and national issues, one can say boldly that this rising star and gender activist stands for responsive governance, progressive development and gender equality. She believes government must be able to prioritise in order to focus on meeting the fundamental needs of the people who voted for the leaders of the country.
Felicity speaks against government interfering in religious activities, building a non- denominational cathedral in a country that lacks hospital beds, ambulances to convey the sick to hospitals in emergency situations and the alarming unemployment situation that can pass for a national crisis with recent loss of jobs in Ghana's financial sector which is currently in disarray.
In a country where journalists can be bias in their analysis regarding national issues, Ms Felicity Nelson, a gender activist of the Pepper Dem Ministries fame, brings something new that is almost therapeutic to the listener on our airwaves in the mornings.
She is outspoken about challenging gender roles that are toxic in our culture especially violence and assault against women. Felicity and her group have unleashed something that inevitably will lead to a great transformation in our society where women are still oppressed and marginalised.
As the value systems and the cultural values that are out of sync in our society are challenged and interrogated, we can only commend and encourage personalities and activists like Felicity who are bold enough and have the breath of her convictions to speak to power and change the narrative thereby standing out from the crowd and distancing herself from other analysts who kowtow to
people in power.
What does it take to wear the shoes of a Felicity Nelson? Certainly it takes sensitivity to the plight of the ordinary Ghanaian citizen, great patriotism, intellectual independence and of course, guts.
By: Korletey Obuadey (Political Strategist / Analyst)