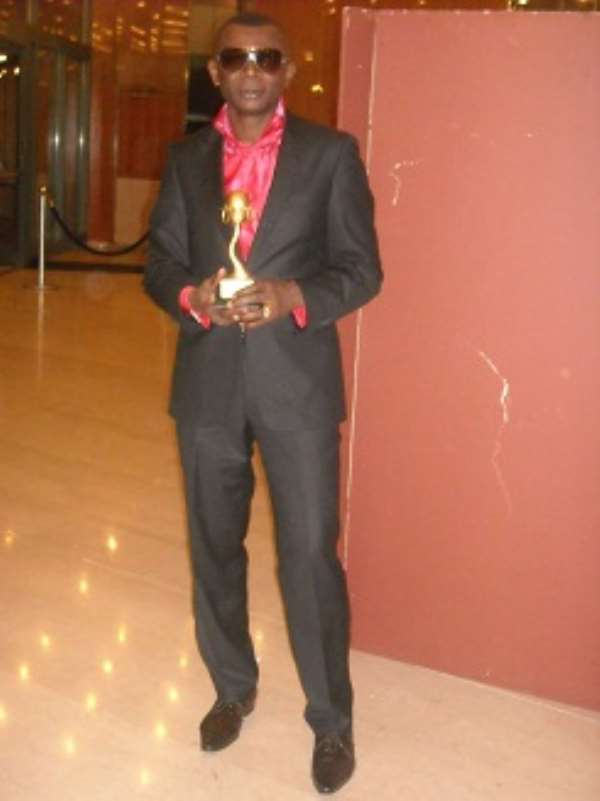 BEST NIGERIAN DESIGNER IN DIASPORA AWARD - ADEBAYO JONES
On Sunday November 29th 2009 at the Nigerian Fashion Awards 2009

at the Transcorp Hilton Hotel, Abuja, Nigeria
ADEBAYO JONES was presented with the first ever
BEST NIGERIAN DESIGNER IN DIASPORA AWARD

.
The event itself was organised by LEGENDARY GOLD LTD in collaboration with The FEDERAL MINISTRY OF TOURISM AND CULTURE AND THE WORLD FASHION ASSOCIATION, produced by Mr Lexy Mojo-Eyes, who is a well known ambassador to the industry, totally commited to promoting the talents of Nigerian Fashion Design. He is also responsible for getting Nigeria into the World Fashion Council, with the World Fashion Council Show taking place next October 2010.
Lexy Mojo-Eyes started the Nigerian Fashion show annual event, thirteen years ago, the Nigerian Fashion Week then followed on seven years later and the Nigerian Fashion Awards were born last year, all three events rising prominently and swiftly.
Each category for an award was presented to the winning nominee, selected by a panel of 15 members all professional and covering all fashion aspects, all nominees from each category were narrowed down to a top 3, with the Winner of all awards being chosen by the panel from the Final Three candidates.

The awards took place in the presence of some very distinguished guests including:
PACO DE JAIMES
President of the World Fashion Council
HER EXCELLENCY, DAME PATIENCE GOODLUCK JONATHAN
Wife of the Vice President of Nigeria
The Event was hosted by:
SEN. BELLO JIBRIN GADA
Honourable Minister of Tourism and National Orientation
and
SEGUN ARINZE
Nollywood Star Actor and Singer
ADEBAYO JONES was there in person to collect his award and to also present a capsule preview of his 2010 COLLECTION
On winning this prestigious award ADEBAYO JONES was delighted at the honour and very grateful to all those that support him
Development / Accra / Ghana / Africa / Modernghana.com