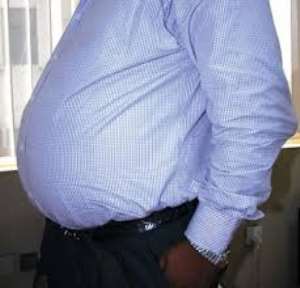 Photo- Informafrica.com
ALCOHOL vs POT-BELLY: Any Link?
The human body is programmed to convert excess energy to fat. This is how those who eat more than needed for expenditure gain weight.
It is for same also that those who drink-to-eat (use alcohol as an appetite stimulant) or eat with drinks easily put on extra kilos.
You know by now that alcohol is energy-rich. However, the human isn't normally set to use this energy—especially in the midst of food. It is thus easy to store 'alcohol energy' as fat.
It is also worth noting that those who drink-to-eat easily overeat—leaving excess energy which could be stored as fat.
Fat is stored in cells called adipocytes—abundantly present in the butts, boobs, thighs, arms and belly. The belly (abdomen) provides a good site for fat deposition because of its large area.
So there you have it. If you're developing a bulging belly and you're an alcohol user, don't wonder so much; you know your 'poison' now.
NB: Excess fat may come from food alone. Thus, non-users of alcohol who eat more than needed could also develop pot-belly.
FOOD IS YOUR BEST MEDICINE.
PAA KWESI HACKMAN (RD, MSc)
~Registered Dietician & Nutritionist
~Secretary, Ghana Dietetic Association (Southern Zone)
Call: 024 4016344
Mail: [email protected]