Tired Of Your Menu? Try Gari Fotor For A Change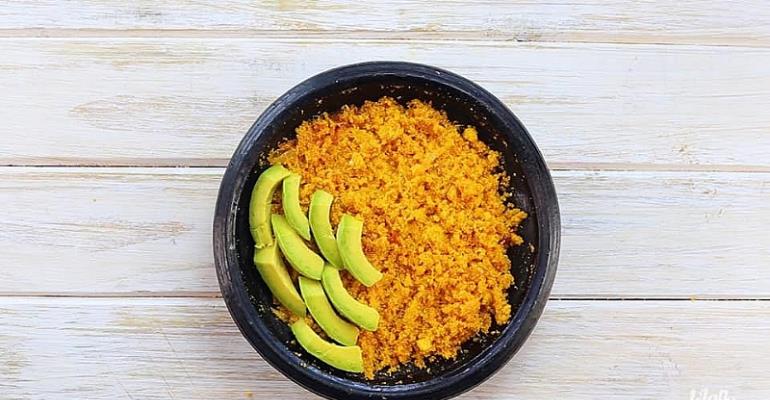 On the forgotten menu today is a dish that invokes such nostalgia amongst virtually every 'SSS/SHS' and varsity student.
Ironically, while most locals have always looked down on this meal as one for the indigent or poor, its list of faithful patrons has always included the 'burgers' — yes the been-to's who upon their return to the Motherland would want you think them as always having been eating the 'Queen's or 'POTUS's food'.
'Gari Fɔtɔ' was such a delicacy mostly eaten at lunch or supper. Fɔtɔ' is an Akan word for mix. 'Gari Fɔtɔ' is thus a mix of gari and stew, often eaten with fish, meat, even beans — and was served with avocado sometimes.
In most homes then, this dish was alternatively made from left-over palm-nut soup mixed with gari. To students and most Ghanaians making their maiden 'Journey to the West', 'gari fɔtɔ' came in the form of gari and 'shitɔ' (local black spicy stew) mix.
Gari was always the "students companion", and with gari and 'shitɔ', a 'saviour' — affectionately called 'Ga-shit'— was also on hand to meet them at their point of need.
The delicacy offers good energy and nutrients — and it is one of the cheapest and easiest to prepare. Modern versions could include more cut vegetables than just the regular avocado though.
Today, though students and the 'Burgers' may still be patrons, 'gari fɔtɔ', has largely lost its place in the home.
The economic, nutritional and cultural significance of the meal should, however, encourage its 'sankɔfa' (literally, return to take it, in Akan).
Let's get back to our food roots. There is still good right here. Still, 'Ghana wɔ adze a oye'!
FOOD IS YOUR BEST MEDICINE.
PAA KWESI HACKMAN (RD, MSc)
~Registered Dietician & Nutritionist
~Secretary, Ghana Dietetic Association (Southern Sector)
Call: 0244016344
Mail: [email protected]
Note- Photos used unless otherwise stated doesn't belong to Modernghana.com