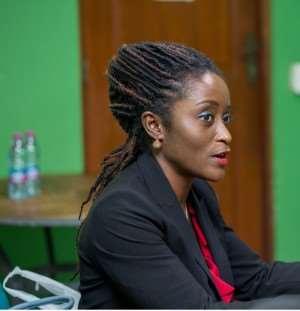 She executes the seemingly tedious task of being a mother and an exceptional Career woman with ease. As the senior Environment Specialist at the World Bank, Mrs. Dora Cudjoe has spearheaded phenomenal gatherings and initiatives geared towards making the world a better place.
In this article, she opens up to me about her life, family and what it means to hold a title as hers:
Who was Dora before World Bank? I worked with the Global Environment Facility Secretariat right after completing my Master's Degree at the Yale University School of Forestry and Environmental Studies. Before Yale, I was a coordinator for the Global Student Leadership Program at Manhatanville College, NY, a program I attended earlier in 2001 as a United Nations Development Program-sponsored representative for Ghana and a new graduate from the Kwame Nkrumah University of Science and Technology. Prior to that, I served as a national service personnel at the Environmental Protection Agency in Sekondi-Takoradi, Ghana. During that period I launched an education and awareness campaign for six primary schools in Takoradi that built on the findings from my undergraduate dissertation, "Perception of Urban School Children of the Forest and its Benefits".
How does it feel working with the supreme bank of the globe?
I count it both as a response to my calling and a blessing to serve in my current capacity as a Senior Environment Specialist here at the World Bank. For me there has never been a dull moment helping our client countries achieve their development goals in line with the World Bank's twin goals. The World Bank Group has set two goals for the world to achieve by 2030: end extreme poverty by decreasing the percentage of people living on less than $1.90 a day to no more than 3%; and promote shared prosperity in a sustainable manner by fostering the income growth of the bottom 40% for every country. It is a privilege to provide our client countries with the technical and operational support to help them better manage their natural and human capital.
How long have you served as the senior Environmental specialist at the World Bank?
For four years. How would you describe/define your position at the World Bank?
Helping the client to identify world-class tools and resources needed to optimize use of its natural resources assets to alleviate poverty and improve living conditions while ensuring equitable distribution of benefits in a sustainable manner. I am really thrilled by the growing capacity at the local level and the contribution of natural resources to address climate challenges, improve incomes, support a stable economic environment and ensure that benefits are shared across generations.
Aside from generating wealth and introducing new initiatives, how has your job added value to your life?
As I mentioned before, working in the Bank fulfills my calling and my passion to succeed. This is not to say that what I do is easy, but I find my job very fulfilling. The Bank believes in leaving no one behind in the fight against extreme poverty and this includes working in fragile and conflict countries or in remote, inaccessible areas.
Taking a cue from your life and career as a woman, how do you/World Bank intend on empowering more women into this field?
You bring me to a blog I wrote on an all-women's village experience in (North) Sudan: http://blogs.worldbank.org/nasikiliza/an-ode-to-the-lady-in-blue-in-kassala-state-sudan . The World Bank prides itself on making a mark when it comes to setting the pace for gender balance and inclusion. Our CEO is a woman and as you may know the Vice President of the World Bank East Asia and Pacific Region is a woman and from Ghana. These women, and others in leadership positions, are paving the way as role models for younger staff.
Is your family supportive of you? My husband is my greatest cheerleader. My children are also interested in my work, so much so that they take delight in visiting the Bank on 'Bring your Child to Work' days. I truly appreciate it when my children try to propose and write about solutions to development and human well-being challenges they see or hear about in the news.
When and where were you born? In Asankrangwa, in the Western Region of Ghana Where do you originally hail from? My early, formative years were in Dwenase, Sefwi Wiawso where I lived until I was 7 years old before moving to Takoradi, the regional twin capital of Western Region.
Do you recall any interesting stories regarding your childhood?
You know how they say; childhood virtues and vices begin in early childhood? Well I grew up under the impression that all dads are hands-on when it comes to nurturing their children from ironing their uniforms, helping pack their lunch boxes, reading together, preparing for examinations together and telling stories every night? These are my perception of fathers. He did all this, in addition to being the Marketing Manager of a timber firm.
What is your earliest memory? Traveling with my father and little sister to Accra on one of his treks and witnessing burning bushes left and right. I only understood later that that was the El Nino effect in Ghana; drought, bush fires, no/little harvest and subsequently famine. I remember very well being encouraged by my dad, Mr. John Nac Cudjoe to write essays on deforestation in response to competitions in the Junior Graphic. It therefore does not come as a surprise to me that although I wanted to go into the medical field, exposure to environmental issues as a child made an impression on me, and here I am.
Who was the most influential person to you as a child?
My father is a good role model. He pays attention and makes every little thing count. Indeed, he has his way of making you feel that you are the best at everything and working hard only brings out the best in you. He has his fingerprints all over my going to Yale. He sent me newspaper clips on everything Yale and made it look like it was THE SCHOOL!! I remember when I was second guessing myself about taking the offer to go the IRNR, KNUST he readily sent me materials written by Leticia Obeng. I later found out that Leticia's daughter also called Leticia Obeng worked at the World Bank. Fathers have their own way of making us aspire for greatness!! Yes, that is my father.
What was/were your favorite game/Games? I loved sprinting and so I will call that my game. Reading was my default thing though. I played 'ampe' alright but would not call it my favorite game.
What was your very first career ambition as a child?
To be a medical doctor. What is your definition of "happiness?"
Happiness is contentment and the belief that I am not alone because Jehovah God looks out for me and I can trust Him to watch my back and make my way blameless.
What is your most memorable travel experience?
My mission trip to Bhutan. I could not wait to appreciate the feeling of 'gross happiness' and I believe I did. The sight of clear pristine water bodies in the city contributed to it, the cascading mountains, the well-fed stray dogs and the dedication of the team with whom I worked.
What is your happiest memory? Some of my happiest memories are singing hymns in the Chapel at Wesley Girls High School. Music soothes the soul for sure!
What accomplishment are you most proud of? My days as a school athlete at Archbishop Porter Girls Secondary School in Takoradi. That really taught me discipline, focus and efficient use of time.