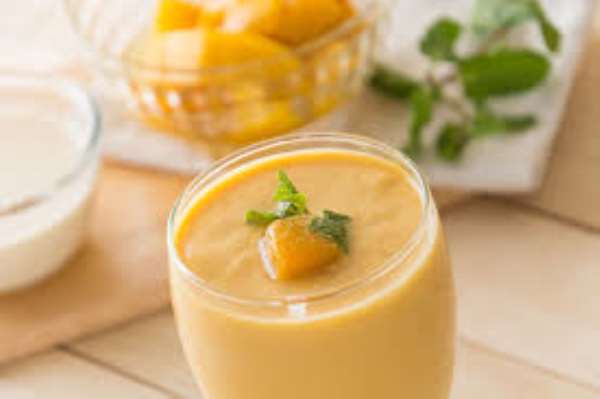 Photo- Smoothieweb.com
The best dietary remedy for menstrual discomforts is and always would be healthy eating as a lifestyle — in addition to regular physical activity.
However, if you haven't been able to keep to a healthy plan, you may want to consider the following at that time of the month.
A good breakfast is always a good start. When the oestrogen levels surge at that time, some may experience some lethargy. This is compounded if your appetite is down too. Eating well to start your day provides that energy to offset the lethargy and even negative moods.
Mark you, the brain is a huge consumer of glucose. So starving it of the glucose for long — as you slept and delaying breakfast — could put you at risk of moodiness and irritability with or without your menses.
Whether it is the 'normal' Ghanaian food like 'waakye' or 'kenkey', or the porridge/tea kind of breakfast — just eat something for breakfast.
A good fruit snack is good therapy too. Fruit salads or their blends, even smoothies are always healthier choices than the sweet carbonated drinks and confectionery you take to placate the menstruation-related cravings.
Try a cup of cut yellow melon, water melon, banana, mango or pineapple; you could also blend them for a drink or a smoothie. And use coconut water for your blends and smoothies for more potassium.
Even the usual banana with roasted groundnut is a simpler snack. Banana, particularly, is considered one of the best mood-boosting foods you can eat — thanks to its high dose of vitamin B6. They are rich in potassium magnesium and soluble fibre, too, which can reduce water retention and bloating — also discomforts concomitant with menses.
Water too. Good old water for hydration is also great for lightening moods. Yes! Juices and soft drinks can never replace water as thirst- killer. Remember dehydration could result in lack of concentration and poor moods too.
Don't forget too, that the exuding menstrual also makes you lose some water that needs replacing. So even when the appetite for food is gone, don't refuse water. You may add lime if water is the menstrual hormones are making the water 'too bland' to take.
FOOD IS YOUR BEST MEDICINE.
PAA KWESI HACKMAN (RD, MSc)
~Registered Dietician & Nutritionist
~Secretary, Ghana Dietetic Association (Southern Sector)
Call: 0244016344
Mail: [email protected]