Enough of The 'Banku and "Fufu": Keep Up A Continental Taste With This Grilled Calamari Recipe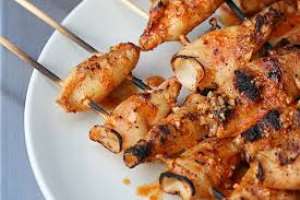 Ingredients
400g fresh calamari (squid) cleaned and sliced into bite-sized pieces
60ml (1/4 cup) olive oil (plus more for basting)
4 garlic cloves, chopped
2 red chillies, chopped (use whichever ones you like, we prefer Scotch bonnets or bird chillies)
finely-grated zest of 1 lemon
2 tbsp fresh thyme, finely chopped
20cm length of chorio sliced into 5mm rounds and halved into half moons
salt and freshly-ground black pepper, to taste
lemon wedges, to serve
oregano, to sprinkle
Method
If you are using wooden or bamboo skewers, soak them over night to prevent them from burning on your braai (barbecue).
In a bowl, combine the olive oil, garlic, chillies, lemon zest and thyme. Rinse the calamari and pat dry with kitchen towels, then place to marinate in the olive oil mix. Cover and refrigerate for 60 minutes.
Take one of your skewers and alternately thread calamari and chorizo pieces onto it. Continue threading the ingredients onto your skewers until everything is gone. Arrange the skewers on a shallow dish and pour over the leftover marinade, turning the skewers to coat.
Place the skewers on the grill of a hot (but not too hot) barbecue and cook for at most 3 minutes per side, brushing half way through either with oil or with reserved marinade. Do not cook for more than 3 mintues each side, or the sausage will dry and the calamari will become too tough.
Set the cooked skewers in a serving dish and sprinkle with oregano. Serve accompanied by lemon wedges. These go fantastically well with tatziki as a sipping sauce.