Coconut-Mango Smoothie For A Refreshing Start!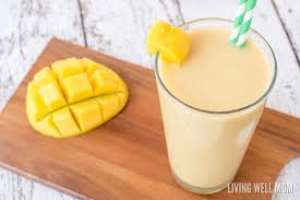 This yummy Coconut Mango Shake is a perfect breakfast smoothie option. The coconut and mango make it really yummy, and it has Chia seeds in it for an extra protein and nutrition boost.
Allow the seeds to soak in your fridge for 8 hours (I do this overnight) shake the jar a couple times before you go to bed and a couple times in the morning before you make the shake. This will allow the seeds to better expand.
Number of servings: 1
Serving size: 1 smoothie
Calories: 235; Fat: 11; Fiber: 12; Protein: 7; Carbohydrates: 29
Coconut Mango Shake Ingredients:
2 tablespoons Chia seeds
1 cup Coconut milk (can substitute with Almond milk)
½ teaspoon vanilla extract
½ cup chopped frozen organic mango
½ teaspoon flaked coconut (optional)