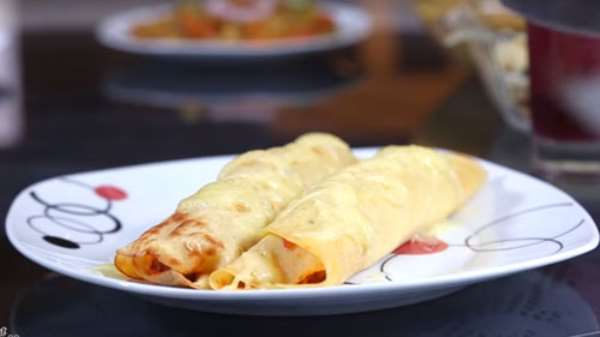 Photo credit - Auntie Bina
Ingredients for Salted Pancake Recipe:
¼ Onion, Chopped
3 Scotch Bonnet Peppers
1 Root Ginger
2 Cloves Garlic
1 Cup Water
¼ Cup Red Oil
2 Tomatoes, Blended
4 Eggs
1 Cup Agushie
Kontombre Leaves
1 Cup White Flour
1 Tsp Salt
1 Tsp White Pepper
1 Cup Milk
1 Tsp Butter, Unsalted
Mozzarella Chesse
Methods To Make Easy Salted Pancake Recipe:
In a blender, add onion, scotch bonnet peppers, ginger, garlic, 1 cup water and blend to make garlic paste.
In a pot on high heat, add red oil, 2 cups garlic blend, tomatoes and cover to cook for 2 mins.
In same pot, add 2 beaten eggs, mixed with agushie and cover to cook for 1 min. Mix and cover for 30 seconds again. Then add kontombre leaves to mixture and mix well.
In a separate bowl, add white flour, 2 eggs, salt, white pepper and mix while adding milk to create pancake batter.
In a pan greased with butter, fry pancakes using pancake batter.
Then wrap agushie stew with pancakes, sprinkle mozzarella cheese on top and microwave/grill for 2 mins. Serve Hot.