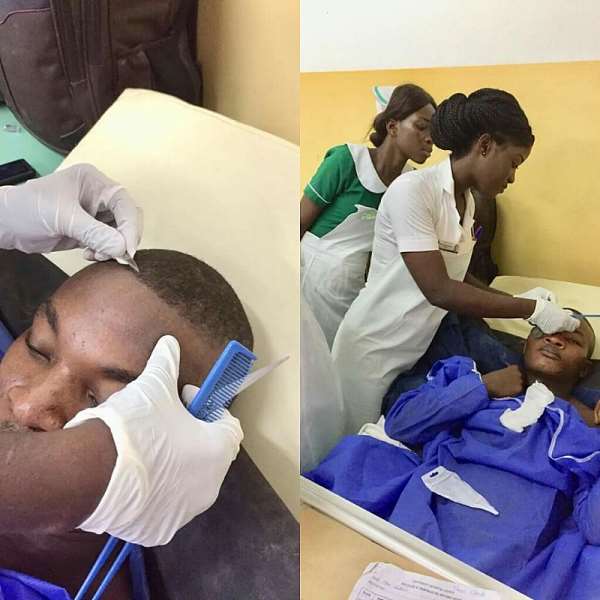 Photo credit- Maabs Aduwaa Yankson
I'm tempted to do this for the first time,on my wall.
So,yesterday i went for morning shift and this bedridden patient here,Abu Zakari who has been on our ward(Surg.Unit) for close to a month was looking quite unkempt not because he hadn't taken his bath but because he had a very bushy hair,mustache and beard.
Then,I remembered my other small talent bi,where I used to barber my classmates' hair way back in SWIS(Swedru International School) and gave him a clean shave, when the ward became less busy.
Why am I posting all this? It is to plead with benevolent people here to support him FINANCIALLY. He has absolutely no one and no money(even buying food is a problem) because the people who brought him are only "Good Samaritans", I'm told.
He fell from a height and he was brought to our Hospital after a week of the incident due to FINANCIAL CONSTRAINTS and it is in that same vein he's refused referral. Right now,all the Doctors need is a CT SCAN which cost about GHC1100 and he doesn't have the means so he is being treated symptomatically.
Please this is his contact and MoMo no.
0243449335(Abudu Zakari)
NB. Patient and everyone in the photos gave me their permission to post this.
Thank you for your attention and God bless everyone who will bless him with the little they have(no amount is too small
Addendum: Dear future husband,I will be here as your finest barber anytime your barber disappoints wae,lol.
My name is Gertrude Maabs Aduwaa Yankson but you can call me,the Nurse-barber,I no bore.
Story by Maabs Aduwaa Yankson/Facebook (The nurse)