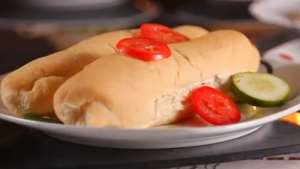 Photo credit Auntbinaskitchen.com
Ingredients:
½ Cup Red Oil
6 Cloves Garlic, Blended
1 Tomato, Blended
1 Tsp Salt
1 Tsp Black Pepper
1 Cup Black Eyed Beans, Boiled
Hot Dog Bun
Sweet Peppers
Method:
In a pot on medium heat, add red oil, garlic, tomato, salt, black pepper and cover to cook for 2 mins.
n the same pot, add boiled black eyed beans and cover to cook for another 2 mins to make red red sauce.
Optional: Add chili powder to sauce.
Stuff hot dog bun with red red sauce and garnish with cut sweet peppers.