Is Is Cool To Rock Ripped Jeans To The Office On Fridays?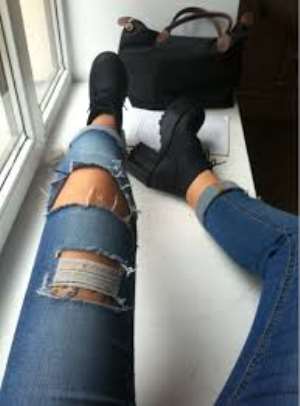 I had never thought of ripped or distressed jeans in an office setting until two of my colleagues, all females showed up in the office donning ripped jeans and casual tops.
It was a Friday though but the thoughts of whether it was appropriate lingered on my mind.
Ripped or distressed jeans as the name goes is the normal jeans trousers we know with cuts in the front part- from the thigh area and below depending on how the wearer's choice.
It can be little cuts on the jeans subtly revealing some flesh or it could be big cuts revealing a lot of flesh.
No matter the form it comes in, can ripped jeans be rocked to work especially on Fridays?
Well, it depends on the wearer and whether they will feel comfortable in them and most importantly whether the dress code in their organisation favours that.
Personally, I don't subscribe to the ripped jeans to work idea. But if you love your ripped jeans so much and your organisation have less strict dress code, you can pull of a subtle ripped jeans look- subtle cuts on the jeans revealing little or almost no flesh with a long top.