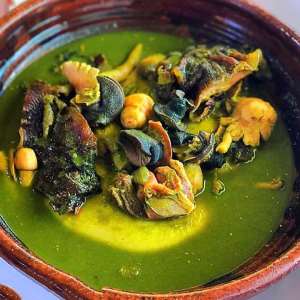 INGREDIENTS:
4 medium sized snails
1 medium sized mudfish (smoked mudfish)
2 handfuls of mushrooms – preferably oyster mushrooms or similar
1 grilled Mackerel
2 dried herrings
Piece of Koobi (salted dry tilapia)
10-15 medium size cocoyam leaves (Kontomire)
Handful of Kwansesaawa (similar to Pea Aubergines) - optional
2 medium sized onions peeled
4 garlic cloves peeled
Thumb sized ginger
Piece of scotch bonnet pepper (chilli to you preference)
4 Kpakposhito (Pettie Belle Chilli) – optional
4 fingers of Okra - optional
4 medium sized fresh tomatoes
1 large shrimp cube crushed into powder
Pinch of salt
METHOD:
Remove the snails from their shells and clean well. Wash the snails with lemon juice. Cut up a whole lemon and use half of it to rub the snail, squeezing the juice whilst cleaning the snail.
Place the mushrooms, koobi, dried herrings, snails in a pot and add the shrimp cube and pinch of salt.
Blend one of the onions with the ginger, scotch bonnet pepper and garlic. Add a bit of water to help with the blending. Pour the onion mixture into the pot.
Place the pot on high heat. Now add the other whole onion and tomatoes. Cover the pot and let it steam until the onion and tomatoes are cooked and soft.
Wash the cocoyam leaves well and remove the leaves from the stalk. Place in a separate pot, add the Kwansesaawa.
First remove the stalks from the Kwansesaawa and wash well. Add enough water just and place on the hob. Turn on the heat and boil until the cocoyam leaves and Kwansesaawa are soft.
Now take out the onion and tomatoes and blend together. Add this mixture back to the pot with the mushrooms et al. Let this boil for a further 15 minutes.
Add the mudfish, okro and kapkposhito to the soup.
Place the cocoyam leaves and kwansesaawa including any leftover water in a blender and blend all together until nice and smooth.
Add the blended leaves to the soup, add about a lower the heat and partly cover the pot. Let the soup simmer gently until you see that the soup has thickened.
Taste and add bit more salt if required. Add the grilled Mackerel and let it simmer for a further 5 minutes. If the soup is too thick, add a bit more water and a bit more seasoning if required.
Serve the soup with fufu or boiled rice or boiled ripe plantains.
Note- Photo used unless otherwise stated does not belong to modernghana.