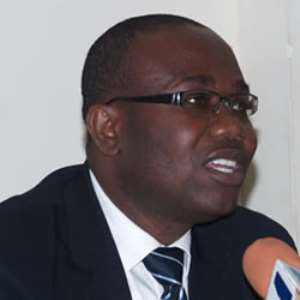 Kwasi Nyantakyi
© Copyright myjoyonline
Ghana's youngest but successful football administrator, Kwesi Nyantakyi took his turn on Bola's personality profile, a programme aimed at celebrating heroes of our time.
At 40 and with just a week to hit 41, the affable, soft spoken chairman has two successive World Cup appearances to his credit. He is gunning for his first nation's cup in Angola 2010, and the first in 27 years for Ghana.
A week ago, the chairman, like many Ghanaians heralded a stupendous Satellites performance which culminated into the first World Cup trophy. He nearly gave up he said, but the Gracious hand of God intervened.
He is a man of many jobs. A banker, lawyer, an administrator and who knows a...
Listen to Mr. Nyantakyi as he shares with listeners his lifelong experiences, pains as well ambitions.
Play the the attached audio for full details of the interview