April 16, 2018
|
LifeStyle Home & Food
Mango Is In Season! Grab Some And Make Healthy Smoothie For Lunch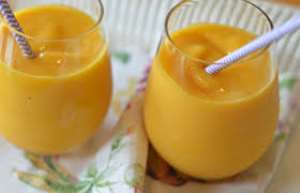 Mango is in season so just buy as many as you can and enjoy its health benefits and delicious taste before it gets rare.
This healthy mango smoothie is good for the family and can be enjoyed any time of the day.
Recipe
6ounces mango pulp , cut into pieces (175gr)
8fluid ounces coconut milk(240ml)
3fluid ounces 2% Greek yogurt (90ml)
2 -4tablespoons honey, to taste
2 -4ice cubes, crushed
Method
Place all of the Ingredients in blender and blend until smooth.
Can be chilled