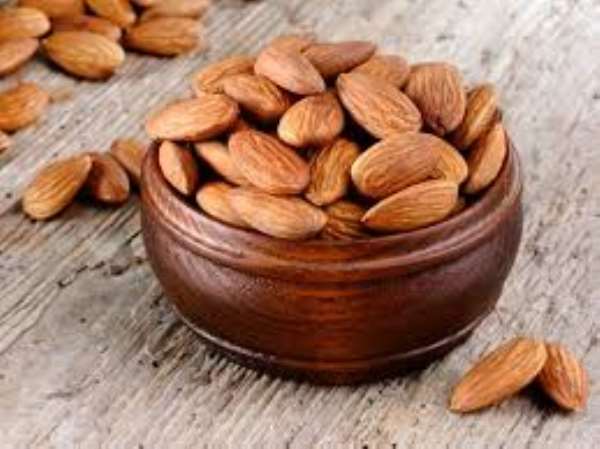 Photo culled from prganicfacts.net
Health Benefits of Almonds
Reduced risk of heart disease: The polyphenols (a chemical compound) in almonds are thought to have an antioxidant effect, which improves cholesterol and lowers the likelihood of heart disease.
Better blood sugar control: Almonds as part of a healthful diet may improve glycemic status in diabetic patients.
Improved memory: Some research supports the link between eating almonds and cognitive function.
Healthier gut microbiota: The abundance of dietary fiber and polyphenols in almonds may create a prebiotic effect.
Besides these powerful pluses, almonds work as both a filling snack and potential substitute for milk or flour. Here's what else you should know before stocking up on everything almond:
Are almonds a better choice than other nuts?
Almonds contain less fat than hazelnuts, macadamia nuts, pistachios, and walnuts. Of that group, almonds also contain the highest amounts of calcium, iron, magnesium, phosphorus, and zinc.
Is almond milk a good alternative for cow's milk?
If you're lactose intolerant, vegan , or looking to avoid dairy, choose almond milk alternatives clearly labeled as unsweetened. Even "plain almond milk" can still contain added sugar — up to 18 grams per 8-ounce cup! You'll also want to check labels for sodium. Some flavored versions can contain up to 230 milligrams, even if they don't taste salty.
As for your kids, you might want to stick with cow's milk for now if they don't have any dairy allergies. Drinking milk alternatives (like almond) has been associated with lower childhood height, possibly because they contain less fat and protein. However, future research is needed to better understand the relationship between drinking non-dairy milk and height.