This Trotro Driver Takes Branding To A whole New Level: Here's What You Can Learn From Him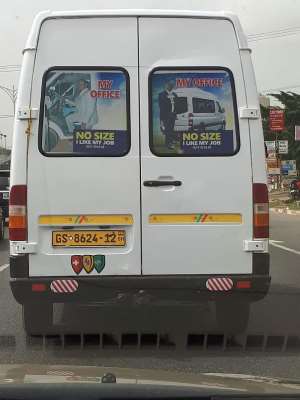 As you move through the various phases of life you begin to realise that in life you don't always get what you want. But as you begin to appreciate where you are now, even if it's not the place you envisaged to be, it makes all the difference.
No matter the job you find yourself doing right now do with as if your world is dependent on it. Who knows it may be a stepping stone for a greater you.
Who knows somebody out there is watching and planning on how to lift you higher.
I was inspired yesterday when a Facebook user, Author Makafui Awuku posted about a Trotro driver he encountered while commuting back home.
The Trotro driver didn't invent something new. Branding and advertising has always been with us but never have these crossed to the Trotro business.
The unknown Trotro driver had a colourful artwork designed with his pictures and his telephone number for business! How refreshing!
The stickers pasted at the back of his car were two. For one he was suited up in ash coloured suit and for the other sticker, he is captured in a black suit and neatly polished black shoes to match and proudly standing close to his Trotro with the inscription, "My Office…no Size.. I like my job."
Key lessons
1. When you set your mind to engage in any venture, do so committedly to succeed or don't start at all.
2. Every initiative no matter the field needs advertising and branding to flourish
3. Be proud of your initiative first for others to trust you.
4. For most initiatives or businesses, your look says a lot about you before you make your first utterance. Pay attention to that bit