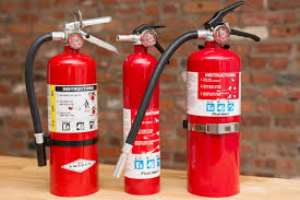 Photos by Michael Hession via thewirecutter.com
Backyards are simply amazing! Whatever cannot fit your home definitely has its place in backyard. If you wish to create something, enjoy nice exterior or simply have fun, you can do it all here. However, one of the oldest questions regarding this is whether or not this is the most efficient way to use it. This is the main conundrum. As a way to address the question properly and focus on solution that actually make sense, we have written this article. Here, you can check some of the most modern, efficient and foremost reasonable solutions for your backyard.
Smoke detectors are one of the things I would recommend to every home owner. They are especially important in households that rely heavily on gas. Here is what people usually do not realize: fumes and gases are hard to detect. You probably think that you will be able to detect fire if it occurs. This is not the case. Most of these odors are hard to smell and it will be too late by the time you realize this. Carbon dioxide can easily end your life and you wouldn't even be aware of it. With smoke detectors installed you get a few more precious moment before the problem escalates. They allow you to exit your house and in some cases, you will even have time to call for an emergency service.
Extinguishers are another thing that most people do not see as necessary but they definitely serves a purpose. Kitchen accidents are common. In fact, an incendiary accident can happen almost anywhere within your home. Whether it is due to poor wiring or some other issue, this fire can quickly spread consuming everything in its path. Make sure to have a fire extinguisher in a few key places within your home. They do not cost that much so you would avoid buying one or two.
Water is always valuable. In fact, it has become so valuable that the prices are constantly going up. Perhaps this is due to high processing costs or increased demand. Who knows? One thing is for sure: no matter how you look at it, you are paying water way too much. There is no real reason for that. Instead, you can harvest it yourself. By getting a water tank in your backyard you can quickly and easily get all that rainwater and with a system of rain pump and pipes distribute it to your house. The water will also be filtered and heated along the way meaning you can use it for cooking, drinking and showering.
Now, not everyone plants fruits and vegetables in their garden. However, today when fruits and vegetables are so expensive and you can never be certain what you're eating, having your own garden is an amazing solution for your family. Maintaining that vegetable garden is paramount for success of the whole operation. Because of that, you should definitely consider getting some modern watering systems. Water pumps do a lot here making sure your plants constantly get the necessary water. Check the vast water pumps collection at 4 Pumps .
You can never be too certain when it comes to your safety. If you're living in a big home or on a big property, it can sometimes be hard to cover all this ground. Actually, there might be a burglar on your premises without you ever realizing. You need to monitor all the movement. Best way to do it is by installing an alarm system. Even if you're sick or out of town, if you can't protect your property at the given moment, system will send a signal to police and they will take care of business.