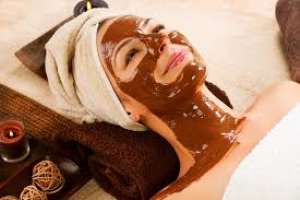 Photo culled from Lerablog.org
Chocolate Facial at Home
Step 1: Cleanse your face thoroughly to remove all the dirt and grime.
You may use a natural cleanser like milk or any other gentle chemical cleanser like Cetaphil cleansing lotion. Make sure you use something that you've tried before.
Step 2: Scrub away the dead cells.
Follow the steps below to prepare chocolate scrub.
Option 1:
Procedure:
Add 1 spoon of olive oil, brown sugar, a few drops of vanilla extracts (optional) to cocoa powder (about 1.5 spoons)
Mix these well together
Scrub your face in circular motion to remove all dead cells
Option 2: For Oily to Combination Skin
This scrub gently removes the dead cells, excess oil, dirt and grease from your face.
Procedure:
Make a paste of coco powder with water
Further add 2 teaspoons of sea salt. Sea salt exfoliates and helps remove dead cells. It also acts a detoxifier by absorbing the harmful toxins from the skin.
Then add a teaspoon of raw milk and mix well to form a scrub
Apply it evenly all over your face and scrub gently in circular motion
Leave it on for 10 minutes
Rinse off thoroughly with warm water