Should Men Help With Household Chores?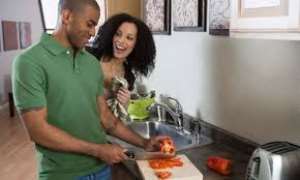 For some time now social media has been awashed with posts about cooking and gender, reviving conversations on the role of couples in marriages or relationships.
Traditionally, women were deemed as producers of babies and home makers while men are providers and heads of families.
By this, women cook, clean and ensure that everything that makes a house a home is provided. On the other hand, men have the sole responsibility of taking decisions in the family and shouldering every financial responsibility.
During those times, most women were full time house wives – meaning, they did not hold careers that generated money and had sole responsibility of taking care of the home.
Fast forward 2018, women are found in many professions, which hitherto was the preserve of men. Women now work equal hours as men. Some even earn hefty salaries than their male counterparts.
Women have climbed to the top occupying CEO, MD and other high positions and grinding companies to success.
Now here's the drift, with women spending most of their time at the workplace, who is going to take care of the home? should men be involved in household chores? Should couples divide household chores to ensure each one has their role to play?
Some have opined that no matter how tight a woman's work schedule, she should be able to manage the home and his career at the same time.
Others are of the view that leaving all chores on women is insensitive since both couple come home tired after work and should share responsibilities at home.
One observer proposed a strategy that works perfect in his matrimonial home- In his home, the next available hands do the next chore.
What is your view on this? Should men help with household chores?