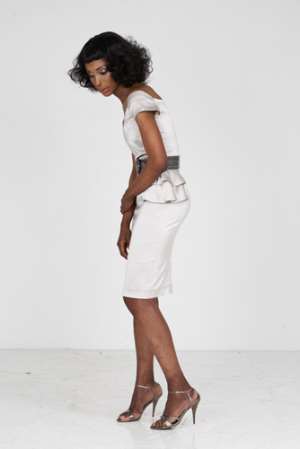 African supermodel and actress Amanda Annan began her career at the tender age of 17, when she was head hunted by the world famous Unique Model Management agency. Within two weeks Amanda was shooting her first campaign for Vidal Sassoon. With her beauty and grace in high demand, she is often flying round the world for numerous shoots and runway assignments to London, Paris, Milan and New York.
Amanda Annan Website: http://amandagalys.com/index2.html
Amanda is the face of many campaigns and the cover of numerous magazines including: Elle Magazine, Women to Women, Photo Magazine and Fashion News. As well as having modeled for Having modeled for such fashion greats as Vidal Sassoon, Vivian Westwood, Alexander McQueen, Calvin Klein, John Paul Gaultier, Emporio Armani, YSL and Galliano.
As well as fronting her own charity Etcetera, Amanda hosted and co produced a documentary in Africa (Jambo Jumbo) with 'Sir Richard Branson' who said "It was one of the best projects I have ever seen". Volunteers, as well as raising money got up at 6:30 am to put their DIY skills to the test by building and decorating separate boys and girls dormitories, shower and toilet blocks, play areas, a kitchen garden, a solar water pump system and solar powered lights for the school. The project ended with Richard joining over 600 local school children at the opening ceremony at the Sekenani Primary School in the Maasai Mara in Kenya. The documentary (Jambo Jumbo) which is n arrated by Sir Richard Branson himself is soon to be released on Television in 2010.
Amanda's modeling background has prompted her to produce the new film 'Model House'. Amanda will be touring the USA, as well as Switzerland, Greece, UK and Brazil to find the 10 most beautiful girls to star in'Model House The Movie'. Amanda will be auditioning thousands of models worldwide and as someone who has graced the covers of magazines and catwalks, she knows what makes a model shine and is sure to find some new sizzling starlets.
Watch out for Amanda on the big screen acting in one of Italy's favorites 'Christmas in Beverly Hills' with Christian di Sica at the end of this year!

www.londonflairpr.com
http://www.facebook.com/londonflair
www.twitter.com/londonflairpr
Development/ Ghana / Africa / Modernghana.com