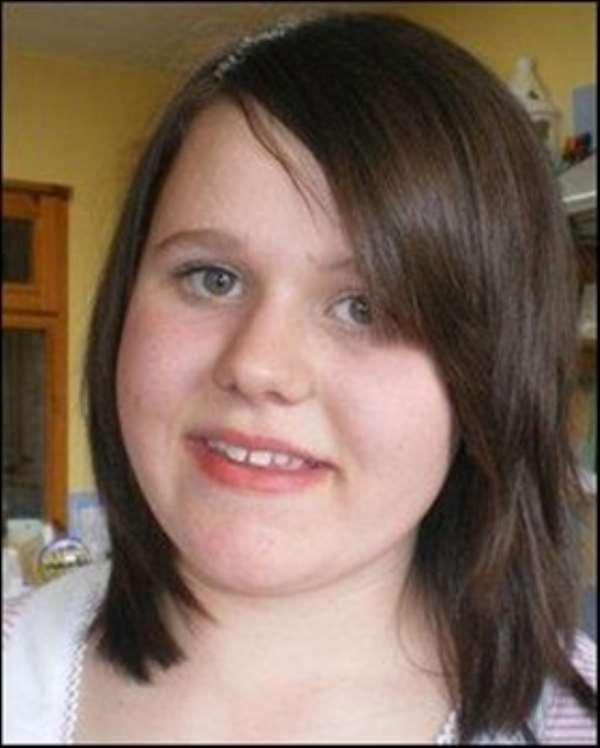 Natalie Morton
Health chiefs have launched a "full and urgent" investigation into the death of a 14-year-old girl after she was given a cervical cancer vaccine at school.
died in hospital on Monday after receiving the Cervarix jab at the Blue Coat Church of England School in Coventry.
Headteacher Dr Julie Roberts paid tribute to her as a "happy easy-going child who worked hard".
Post-mortem tests into the exact cause are expected to be held on Tuesday.
"Staff and students are shocked and deeply saddened at what's happened," said Dr Roberts.
"As a Christian school we look to God in these times of trouble, and our thoughts and prayers go to Natalie, her family and friends."
Coventry City Council's educational psychologists and the school's chaplains had been offering support to staff and pupils, she added.
There have been 4,657 suspected reactions to Cervarix from more than 1.4m doses, according to experts.
The Medicines and Healthcare Regulatory Agency added it had received 2,137 reports between 14 April 2008 and 23 September this year.
However, the risk of severe, potentially life-threatening reactions is estimated at no more than one per million doses of vaccine.
And it is possible that Natalie's death was due to an underlying health problem, or was a coincidence, and nothing directly to do with the vaccine.
Dizziness and nausea
The batch of the vaccine used has been placed into quarantine as a "precautionary measure".
The local NHS also confirmed the vaccination programme would continue, but after a "short pause".
Dr Caron Grainger, joint director of public health for NHS Coventry and Coventry City Council, said their sympathies were with the girl's family and friends.
She said: "The incident happened shortly after the girl had received her HPV vaccine in the school. No link can be made between the death and the vaccine until all the facts are known and a post-mortem takes place.
"We are conducting an urgent and full investigation into the events surrounding this tragedy."
A small number of girls at the school had also reported mild symptoms such as dizziness and nausea but were not admitted to hospital.
The injection - part of a national immunisation programme - protects against the human papilloma virus (HPV), a sexually transmitted disease linked to most cervical cancers.
A routine programme of vaccinating 12 and 13-year-old girls started in September 2008 across the UK using the Cervarix vaccine made by GlaxoSmithKline. A catch-up campaign is now under way for older girls.
It is thought about a million girls have already safely received the jab.
Dr David Elliman, a consultant in community paediatrics at Great Ormond Street Hospital, told the BBC it was important to investigate "very quickly" to allay people's fears about the safety of the jab.
He said: "Once in a while you will expect someone to have a severe allergic reaction to a vaccine, just as with food or any medication.
"At this stage we don't know what was the tragic cause of this child's death, so whether or not it's linked we cannot say, but these are the sort of things one would look for - a severe allergic reaction or more likely a coincidence."
When the national immunisation project was announced, there was some controversy about the selection of Cervarix over Gardasil, which is used by the majority of vaccination programmes worldwide.
Dr Pim Kon, medical director at GlaxoSmithKline UK, which makes Cervarix, said: "Our deepest sympathies are with the family and friends of the young girl.
"We are working with the Department of Health and MHRA (Medicines and Healthcare products Regulatory Agency) to better understand this case, as at this stage the exact cause of this tragic death is unknown."
The global pharmaceutical company added that the vast majority of suspected adverse reactions have related either to the symptoms of recognised side-effects or were due to the injection process and not the vaccine itself.
In the UK, about 3,000 women are diagnosed with cervical cancer every year and about 1,000 die from it.
The department said Cervarix had a strong safety record.
Shadow health secretary Andrew Lansley said the tragedy needed to be investigated "as a matter of urgency".
There are more than 100 types of HPV but only 13 of them are known to cause cancer.
Cervarix protects against two strains of HPV that cause more than 70% of cases of cervical cancer in women.
Vaccination is not compulsory and consent is required before it is administered to the under-16s.
Cervarix was licensed for use in Europe in September 2007.
Source: BBC News