February 8, 2018
|
Love & Relationships
Spoil Yourself This Valentine With Wheel Of Love Goodies On Jumia
Elizabeth Owusu Kissi, Jumia Mall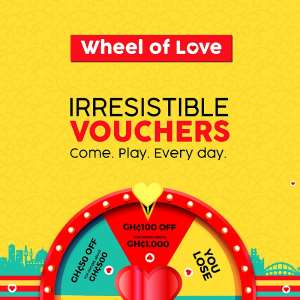 Valentine is fast approaching and Jumia Ghana is giving free vouchers to those who visit the Jumia website to spin the wheel of Love.
Wheel of love is just like wheel of fortune game that spins for some seconds and stops on a goodie to be won. It is round in shape with predictions of what one stands to win inscribed on it.
With Jumia's Wheel of Love, you are allowed to spin once a day for a free voucher. It is a wheel of chance which implies that you can win on some days and not win on some days.
The wheel of love is open to Jumia customers who would love to shop for their valentine items online. And as usual Jumia will deliver to their door step.
Spinning of the wheel of Love begun February 1st and it is expected to end on February 14th. The wheel has up to 20,000 voucher giveaways and until all the vouchers are won, one can continue to spin each day of the 10days MTN&JumiaLovesYou promotion.
Jumia is spending more on customers this valentine by dashing out free phones to customers who buy items worth GHS 500 and above aside a 70% off on variety of products on its site.
Currently, Jumia is giving opportunity to fastest fingers to order items at a flash sale price. Flash sale is the sale of heavily discounted items that buzz on the site for few seconds and goes off when sold out.
Especially to Jumia App users, Jumia is giving them special Apprush code to get up to GH¢ 300 off on all orders worth GH¢ 500 and above. However, it is exclusive to App Users only and can be used from 7pm to 10pm only.